VANISH® Roll-Up Cover
VANISH® Roll-Up Cover
From:
$487.00
$413.95
- 15% Off
Protect your truck bed and cargo without sacrificing the streamlined appearance you prefer with the VANISH® Roll-Up Cover. When closed, this sleek, tonneau cover lies a mere 1/2 inch above the truck bed, virtually disappearing before your eyes from the side or rear profiles. It will give your truck a smooth, streamlined look while providing you with gas mileage savings and protection for your cargo. The tonneau cover pays for itself in the first year of ownership by boosting your gas mileage by as much as 10%! This low profile tonneau cover gives your truck a stylish look and 4-season protection you want at a great low price. The VANISH® Roll-Up Cover is a perfect choice for truck owners who want the lowest-profile design at a remarkably low price.

California Residents: Prop 65 Warning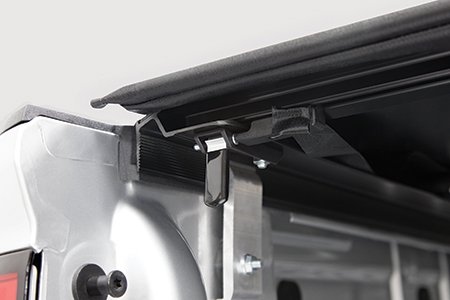 Latching System
The Trigger Latch allows for one finger release to open and automatically locks when the cover is closed.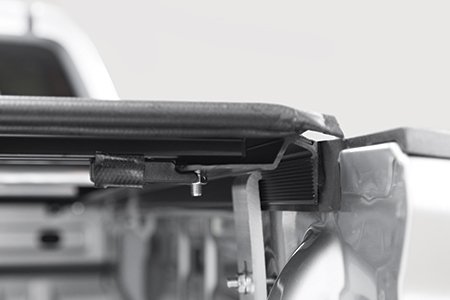 Slide Locks
Two patented slide locks offer additional locked protection for the truck bed cover. Push to lock, pull to unlock. Works with a locking tailgate to give you ultimate protection.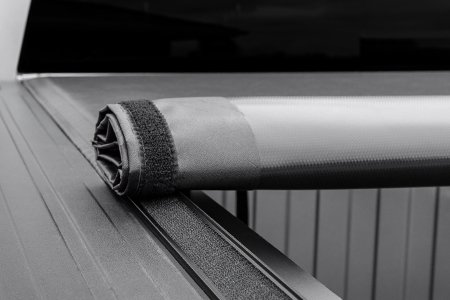 Reliable Fastening System
Hook and loop fastening system provides a high strength seal that runs the full length of the truck bed. Easy one person operation.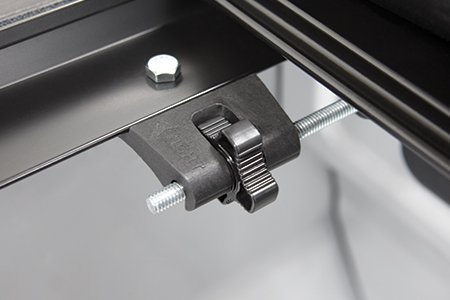 Tension Adjustment
The XT-DIAL™ Tension Adjuster features an easy grip tension adjuster which enables direct tension control with the turn of a dial. No tools - No hassle. Fine tune the tension of the tonneau cover.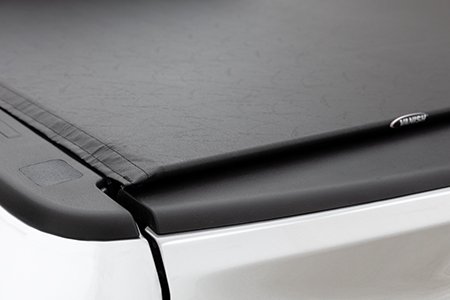 Seals on all 4 sides
Extra ELEMENT SEAL™ Gasket (shown) at front of truck bed provides additional protection. Integrated front and rear vinyl seal. Waterproof foam gasket between rails and truck bed.
Storage Straps
Two convenient adjustable straps made of durable 3/4" webbing.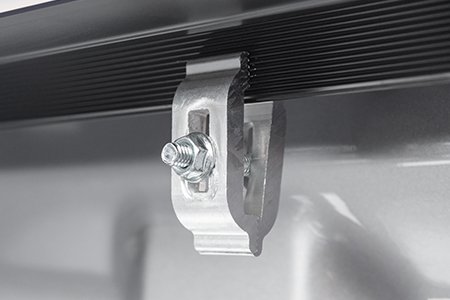 TIGHT BITE™ CLAMPS
Easy to install without the need to drill into your pickup box. Specifically cut 'teeth' maintain exceptional strength with an excellent hold.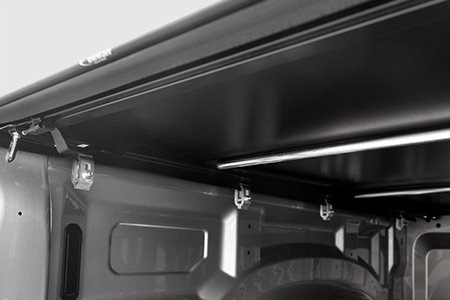 HARDWARE
VANISH® Roll-Up Covers include aluminum mill finish bows with black rails and bars.
Average Customer Rating:
(133 reviews)
Review by: Kenneth B. - DE
Very skeek and low profile. Adjustment is easy.
Review by: Gary K. - AL
Easy install, quality seems on par for the price. Time will tell on that. Only drawback was the clamps seemed to be used, maybe a open box return. a couple of the clamps don't match up on ribs of the rails and constantly need retightening??
Review by: Steve - VA
Second cover bought. First lasted 12 years and still going strong but sold with the truck. Cover itself aged a bit and the velcro straps stopped working after about 6 years. Still significantly dry without velcro adhesion. Bought second Vanish recently and fits great, low profile.
Review by: Doug
The install was easy and the tonneau cover looks great. It has performed flawlessly.
Review by: David L. - OH
Well made, well thought out product. I would recommend the vanish cover if you like the sleek low profile look.
Review by: Theodore S. - MO
This is my third Agri-cover for 3 different trucks, Quality of the product made it easy to return to your company.
Review by: Paul B. - CT
Excellent product.
Review by: Guy H. - NE
The cover was easy to install and it looks great. This is the second cover I've purchased, the first one lasted 10 years.
Review by: James P. - IN
This is my second vanish cover. Love it
Review by: Kent K. - KY
I had a very good experience with ACI and I love my roll up cover!!!
Review by: Thomas S. - NY
The cover looks excellent and i like the low profile the Vanish offers.
Review by: Chris L. - CA
Great product easy to fit and install.
Review by: Aron W. - OK
Great produce and easy install. This is the second Vanish cover I have had on my trucks.
Review by: Barrie G. - CO
Excellent cover!
Review by: Dick L. - FL
great looking, easy to mount. lots of great compliments.
Review by: Jonathan N. - CT
Great looking, easy to install. Love this cover. Highly recommended.
Review by: John K. - MA
Agri Cover,I want to say thank you for providing such a pleasant experience. I made a simple mistake in ordering the wrong cover and the process I went through to get the right cover was painless and very easy. I first talked to Sherri. She was kind, a fantastic help, and she routed me to Travis who was also friendly and easy to work with. Very understanding and they made it a speedy process to get the right cover out ASAP. Not to mention how fast the replacement arrived to my door!. I am very very grateful for such customer service and I will recommend this company to friends, as well as being a returning customer. Thank you again and enjoy the weekend! John Kane
Review by: Jeff M. - OK
After what felt like weeks of research, I finally decided on an Access Vanish bed cover. Online ordering went smoothly, the transaction was promptly processed, and the shipping time was as expected. Since everything went very well, I didn't have any excuse to call and personally talk with the staff, but I expect their customer service skills will be top notch. I fully recommend Agri-cover Inc for all your truck cover needs.
Review by: Brian H. - WI
This is my 4th Agri-Cover. As always the quality is second to none.
Review by: Herb C. - KY
Just put the Access Vanish tonneau cover on my 2011 Tundra double cab truck and it looks awesome. Easy install, no drilling and no problems. Debated between the fiberglass ones and this roll up one, (I have used both in the past), decided this was easier to use and to roll up rather than remove a heavy fiberglass one when I needed the use of the entire bed.
Review by: Daric M.
Overall I really like the cover. The look of the low profile is really nice. I had the Limited before and I really liked it too but did not care for the look of the higher capacity. My only complaint of the Vanish is that it does not have as nice of a latch as the Limited and the loop tie downs are not as nice as the quick release tie downs on the Limited. Other than that, great product!
Review by: John R. - IA
Just installed my Vanish tonneau yesterday on my 2019 Ram. Took about 20 minutes to get it all installed. Looks great, love the low profile look.
Review by: Kevin B. - MB
I ordered this product from TDOT a few weeks ago. I was a bit disappointed when I found out that it would not ship immediately, but I didn't get too upset because they were $150 dollars cheaper than my local distributor. Once I had the product it was an easy installation and it looks fantastic on my truck. I can't speak for durability yet but I have no reason to believe it won't last a long time.
Review by: Dennis R. - OH
Very pleased with the product.
Review by: Todd W. - MN
Super happy with this tonneau cover. Love the low profile on my 2019 Ram 1500 Midnight Edition. Looks tight and solid in appearance and matches the styling of the truck well. All parts of high quality, easy to assemble, and very easy to open and secure when needed for large loads. I highly recommend ACCESS as many friends and relatives have other cover brands and the quality is not as good as the ACCESS covers. I'm hoping the cover performs just as well when Winter arrives in the great white North!
Review by: RONALD W.
EASY TO INSTALL, EVERYTHING FIT AS NEEDED, VERY HAPPY WITH PRODUCT
Review by: Bill S. - ND
Very nice looking cover. Easy install. The directions are great.
Review by: Larry R. - MO
I am well pleased with the Vanish Cover went on easy and looks GREAT compared to the fiberglass cover I did have.
Review by: Richard K. - CT
Straight forward installation. Nice product. Made of quality fabric. Bed rails and clamps are also made of quality materials. I had to purchase the extend-a-bed conversion kit which was also a straight forward installation. Documentation for both products was very good. I believe a novice or a general homeowner with basic hand tools could install this as well as a professional installation shop. The only item not provided was a Torx drive to use with the extend-a-bed conversion.
Review by: Sen B. - ND
This cover was perfect for my older Chevy! Happy with the quality and finish. Highly recommended!
Review by: Scott Q.
I am very satisfied with this product. Cover installed quickly and has performed great.
Review by: Kevin A. - MN
Very nice and easy to install!
Review by: Christopher W. - PA
Easy to install and with the additional smart pack the bed stays dry. The look of the cover on the truck maintains the sleek and sporty look.
Review by: Bradley D. - CT
I am very pleased with the cover. It mounted the way it is suppose to and fits excellently. I would recommend this cover to any one who needs one.
Review by: David C. - LA
2014. I had this type of cover on all the trucks I had . It's a great cover.
Review by: Danny M. - MN
Great cover! I like the lower profile and fit. I had it installed in 25 minutes, no problems. It arrived on my doorstep the next day!
Review by: Tom C. - KS
Easy to install and does exactly what it is designed to do.
Review by: Dennis B. - ME
I love the cover fits perfect. Thank- you guys.
Review by: Ansley D. - GA
So far looks and works great! I've only used it for about a week or so and I haven't had any issues with it yet! Very happy with my purchase.
Review by: Lonny S. - CA
I Love my New Tonneau Cover. It installed in less than 10 minutes and with much ease. Looks Great and is EZ to use. Just what I needed.Great to buy a product that works as advertised!
Review by: Robert B. - SD
I am favorably impressed with the Access Vanish low-profile cover. Installation was relatively simple. I am anxious to see if my mileage improves.
Review by: Buck W. - SC
Easy installation! Sleek! Incognito! Saving on gas trash and a$$! AWESOME!
Review by: Craig C. - NE
Easy installation and use. I like the locking tabs at the rear of the cover because my previous cover did not have these and over time the latch loosened and would unlatch while traveling.
Review by: Kevin C. - ND
Installed this past fall (2018) on my '18 Colorado long box. Absolutely love it. It looks beautiful with the low profile and it has survived the ND record cold winter weather perfectly. Instructions could use more details, but install only took 1.5 hours longer than it should have!
Review by: Brian M. - PA
I love it! It's not my first roll up cover from agricover so I knew what I was getting. Easy to install and it looks great!
Review by: June R. - TN
Got bed cover, came very fast and was easy to install. Love the look
Review by: Steve E. - MN
Very easy to install. I like the low profile of the vanish cover. Quality is excellent
Review by: Anthony S. - NE
I like the way it is low profile, I don't care for the ones that stick up. The vanish are the only ones I will have, this one makes number 3 that I have bought.
Review by: Matt - TX
There aren't many things that I've bought that I brag about, but this is one of them. I think my friends are sick of hearing how much I love this bed cover. I've had my Access Vanish cover now for 3 years and it still works great. I remember a few weeks after I got it, I was moving some camping equipment in the pouring rain. I was fully expecting it to get somewhat wet either through the sides of the cover of water seeping through the fabric. I left it in my truck bed overnight and woke up the next morning to find everything bone dry.I installed it in about 30 minutes by myself with simple tools. I like the roll up cover, because it is not as bulky as the hard covers so it doesn't limit what I can carry. It also provides rain protection, a sense of security from theft and just covering gear while driving down the highway, and I seem to get better gas mileage when it's on. The Vanish cover also sits almost flush with the top of the bed, so it looks really clean with the truck. I HIGHLY recommend these covers.
Review by: Ken G. - MA
Very easy install. Look is fantastic. Highly recommend product.
Review by: Jon D. - SD
Installation was pretty easy and so far as performed well.
Review by: Craig G. - IA
The Vanish cover on my 2006 Colorado is an excellent product. After 8 years there are no leaks and the cover is still water tight and makes no flapping noises going down the road. I recently purchased a bottle of the Cover Care Cleaner and after using other products for years the cleaner took my cover back to new condition. Very happy with ACI and their products.
Review by: Robert P. - IN
Roll up cover works as it should. Way to install. I had the same cover on two previously owned pickups and was really pleased with their durability so I got another one. Good cover for the price!!
Review by: Terry H. - GA
Replaced 12-year old Vanish Roll-Up Cover. I am hoping new one lasts as long as old one.
Review by: Mike J.
Happy with product.
Review by: Steve S. - LA
I installed two Vanish covers on my 2008 and 2010 GMC trucks immediately after purchasing. These tonneau covers have performed great for 8+ years and still look great after washing and applying your favorite vinyl dressing. Due to my work, my cover has been exposed to the sun and very harsh environments, but has held up very well. However, the stitching has finally worn out and allowed the Velcro to come free. I would like to say thank you to Kurt in the ND plant for being so helpful in getting a replacement fabric for my Vanish cover. It was a very pleasant experience. I can't say enough good things about their product and their people. I plan to have an upholstery shop re-stitch my old cover and keep it for a spare. Thank you,SC Sonnier
Review by: Bob P. - SC
This was the second cover from ACI. Greatest thing since sliced bread. Easy to install. Works extremely well. Does not leak in heavy rain storms and I increased fuel mileage.
Review by: MATTHEW S. - KY
Me and my wife decided to get a bed cover for travel purposes. I went with the vanish cover because of its low profile. It sits even with the bed rails making it almost invisible. The cover seals well and locks. It does not bow in the middle like most covers you see on the road. I highly recommend this product for any one looking for a soft cover. It is easy to use and install. Great Product....
Review by: Jim V. - MO
First accessory I installed on my new truck when I got it. Have had it for a year. A must have, keeps everything dry and protected. Rolls open out of the way if you have something large to haul. Will have one on every truck I own from now one. I also purchased the bed mat and tailgate protector and they are fantastic.
Review by: David S. - BC
I was very pleased on arrival of my Tonneau cover. It fit my small box perfectly and installed quickly, and stayed that way. PS. I have since sold that truck and will purchase the same cover from you again for my new Nissan.
Review by: Charles A. - IL
I have purchased three of these covers and have had very good luck and lots of compliments with these. I would recommend your products to anyone.
Review by: John F. - TN
Fast shipping. Installed easily. Rails are only 1/2 inch above bed, so fits well under the 5th wheel. Looks good!
Review by: David H. - MS
I have owned the Vanish cover for about 3 years. I have been really pleased with its quality durability. Last weekend the latch got broken while getting building supplies loaded. I thought it was going to be a lot of trouble to get a replacement. I called the number on your web site Monday and was directed to Randy (I didn't get a last name) in parts. To my amazement, Randy found my part and got in the mail to me right away. I received it today (Thursday). Thanks for your quick response and great customer service.
Review by: Elizabeth V. - TX
The product was sent promptly and efficient. Fit perfect on the truck. Ordering was easy and customer service given was definitely A+++++
Review by: Christopher S. - NE
I have ordered my bed cover as well as replacement velcro strips for the rails. Both products where exactly what I wanted, fast and easy shipping. I will be ordering from them again.
Review by: Dan W. - NY
This low profile tonneau cover looks great on my 2013 Ram 1500 Sport Crew Cab. I have bed rails on the sides of my bed and this truck cover fits in between. Looks great too. Could not be happier.
Review by: Mike P. - MN
Fast service easy install
Review by: Trevor D. - CA
This is the second cover I have purchased in the last ten years. Easy to install and very durable. Quality of product is excellent. Highly recommend.
Review by: Fernando D. - NJ
Great product, well crafted. I am very happy with the cover looks really good on my pick-up.
Review by: Bob M. - MD
Best damn cover ever!
Review by: Eugene B. - MA
Great product, easy to install. Looks great on my new Toyota Tacoma!
Review by: David K. - GA
I have a suggestion for your instructions. If you completely tighten the bolts (step 3. E) and then have to adjust tension, the front plate is so tight against the bed that it is VERY difficult to adjust. I recommend you suggest only firming them up and then after adjusting tension (if required) go back and do final tightening. About wore out my thumbs before I realized the issue. Looks great. Seems to be a good product. Thanks, Dave Kummer
Review by: Larry G. - WI
Looks great, easy to install.
Review by: Michael W. - IA
I like me the Vanish cover. Easy to install and fit my '19 Raptor well.
Review by: Edward M. - NJ
To be honest, I am kinda disappointed in the cover. First, I expected it to be more flush with the line of my bed. It sits a inch above The edge and is more than visible. Don't understand why it would be called flush mount or vanishing is it looks just like my neighbor's which is regular. Second, it will not get tight enough to not be flapping to some level. There are dips in between the cross rails that are very visible. Sorry to bash but I wanted to be honest. Not at all what i expected by advertising or picture on wed site.
Review by: Rob J. - MN
Outstanding. Just put it on. Install was a breeze as long as you have an assistant hold the side rails - like for 5 minutes or so to keep them level until you get a clamp or two on. Looks great, can wait to see how it does in Minnesota weather! Thanks!
Review by: Shay R. - WY
Great product and easy to install. Have had many access covers and they've all been great.
Review by: Ashley S. - MT
Great cover and easy installation.
Review by: Ashley S. - MT
Awesome bed cover
Review by: PAUL N. - WI
Very happy with my new Vanish cover. It was super easy to install and looks very good on my new 3500. Appreciate the quick delivery by ACI.
Review by: Anthony Q. - ME
Install was easy and I love the cover! Sleek profile.
Review by: Dave M. - MN
Easy to install and works great!
Review by: Joseph B. - NH
I purchased the Vanish Roll-Up cover for my 2003 Tundra and love it. I love the low profile look of the cover, and installation was simple and easy. More importantly, I was absolutely blown away by the costomer service I recieved from Agri-Cover. I had an issue during my installation and they went above and beyond with helping me resolve my issue. I can't recommend them enough.
Review by: Anthony Q. - ME
Love it! Easy to install and it looks great! Almost can't tell I have a cover on.
Review by: Raul R. - TX
Great fit on my Carbon Pro bed!!
Review by: STEPHEN B. - MN
I'm on my third pickup with an Agri-Cover tonneau cover. They are great every time. I particularly like the low profile of this one...
Review by: Jeffrey D. - NY
Fast shipping and great price.
Review by: Karalee F. - SD
I have used Access products for many years, and they have always been good quality products with no problems. This vanish cover fits good, looks good, and got to me quickly!
Review by: Blake S. - NE
Looks and works great!
Review by: Mujo K. - OR
Fit like a glove, I love it.
Review by: William G. - WI
Love these covers, my Dad and I both have them on our trucks. Only complaint is that both covers were missing two bolts that were supposed to be included with the covers. No big deal though I had a couple bolts in my garage I was able to use.
Review by: Mark P. - MN
Perfect fit, the straps were not included or mentioned to order with a older cover with sown in straps. I did use the serial number on the old cover .
Review by: Oakley G. - FL
Vanish cover; great low profile,,,,was able to alter it to fit my '99 C1500 Silverado with flipped a tailgate handle which is inside the bed. Will also buy one for my 1986 C10 Squarebody. Really nice quality.
Review by: David S. - TN
Great product and easy installation as usual.
Review by: Ronald P. - FL
The installation was very easy. Fit perfect and looks great.
Review by: Price J. - KS
I like this cover had one before it lasted 6 years and was still going strong couldn't use it on my new truck. Alitalia water get in from the car wash at the tail gate but in a normal rain its okay no water.
Review by: James S. - OH
Great fit & price was great also.
Review by: Jeffrey H. - WY
A well designed, high quality product that not only protects what's in my truck bed, but is a good looking accessory to make my truck look great too. Simple to install, very durable, rolls easily, strong Velcro, and easy to adjust. I will absolutely buy another, IF this one ever wears out.
Review by: Delbert K. - MN
Don't fit right and got no real help
Review by: Anthony S. - NE
Works and looks great!
Review by: Denny P. - PA
Installation was a breeze and it looks good!
Review by: Mike R. - CT
Easy to put on, looks great however one of the plastic devices that adjusts the length of strap that holds the rolled up cover in rolled up mode is broken. I don't know if it came that way or not. Cover was on the truck for a couple weeks before I rolled it up and noticed that
Review by: John L. - MD
I love the cover. It was easy to install in about one hour. I am having issues with getting the wind to stop getting under it, but I'll fine tune the adjustment knobs to tighten. Great cover at a fraction of the cost that the dealership wanted for a bed cover.
Review by: Kevin F. - NC
After 11 years I needed to replace the cover on my truck. The replacement cover came quickly. Instructions were detailed and easy to follow. I did this by myself, but I would recommend having a second person available - it would make the process easier.
Review by: Gary F. - ME
This is my second ACI cover. Installation, on my 2022 Colorado was a bit of a problem, but tech service was great. The cover looks and works very well.
Review by: Ray S. - IA
I had my original access cover for 11 years (installed it on 3 different trucks),and even though it was still in good condition I decided to buy a new one for my new truck this time.
Review by: Andrew M. - MD
I was disappointed to find 2 piece side rails as my old model has singles and would not have purchased knowing this, one of the plastic pieces connecting the two pieces was over tight from the factory and cracked. However the end product is close to what I wanted and seems to be ok.
Review by: Alvin W. - VA
Very happy with the product, and very easy to install.
Review by: Jim B. - TN
Purchased my 1st cover in 2006. Great weatherability and when it was time for replacement parts it was inexpensive and easy - unlike many others I hjave worked on. It was an easy purchase for my new truck, and simple instructions. Great product for the price!
Review by: Chad K. - WI
To have a low profile the angle for the velcro was adjusted, which makes sense, but makes it difficult to keep tight with my ladder rack. Great product, my struggles are due to my configuration. I had the Lorado on my last truck and will most likely have an Access Roll-Up cover on my next truck.
Review by: Marc D. - OH
Great, I love it!!!
Review by: Andrew B. - FL
This is my third cover from ACI. My first cover I purchased in 2004 and it lasted until 2013, at that point I only had to purchase new material. That cover lasted until I sold the vehicle in 2022. This new cover does not seem to be as resilient as those two covers, but time will tell. The only thing that I dislike on this new cover is the closure latch - it's useless because it does not hold down the cover - thankfully they left the two slider latches to hold down the top. Other than that minor annoyance, the top looks and performs great.
Review by: Kenny N. - NC
Great looking. If hardware holds up and cover does not stretch should be good
Review by: Robert K. - FL
Only natural that I put another Vanish Roll-Up Cover on the new Denali as the previous one looked nearly new after 9 years & no issues.
Review by: Matt H. - OH
The cover is awesome. It fits and works well with the Adarac Pro series. Installation was a breeze and everything seems to be holding up just fine one month in.
Review by: Brian A. - SD
Looks Nice on the truck.
Review by: Cynthia L. - FL
Met the needs we wanted. Fairly easy to install. Satisfied with it.
Review by: Brian T. - VA
Great cover, works well with my ADARAC racks
Review by: Randy M. - CT
Very nice cover. Low and sleek, the locking feature is nice but they should reference exactly how that works in their installation instructions. Trying to close the cover the first time one of the locking mechanisms was in the way and bent my side rail a little. Easy to bend back and no effect on performance or look. Holds a little water when parked after a rain but still giving it 5 stars. Would buy again and recommend.
Review by: Rob G. - OH
Easy to install. Made my mileage go up , not 10 mpg. But average about 3-4 and every one counts. Just added to the great looks of my truck. Easy to use by yourself!
Review by: Robert F. - OH
I needed to replace the velcro hook material on my cover frame. Simple task Works great.
Review by: Larry Z. - NY
The replacement parts worked as expected.
Review by: Tommy S. - AZ
I bought this because of the advertised low profile. Well it does not disappoint. It fits my old 1986 f150 short bed very well. it was one of the few low profile roll up covers out there for my year and model short bed. I do not drive it everyday so I can not speak to service but it looks fantastic. I have it adjusted so it sits flat with the bed and love the look I get and thats why I bought this. Easy install once I read the directions I threw in the trash when I opened the box...ugh... but once i knew what I was supposed to do it was very easy to install. I am building another short bed and will buy again.
Review by: Tim J. - KY
Love this Roll up cover over 12 years old the only thing that has failed is the Velcro. And only hook portion on bed rails, the sun ate it up. I left it rolled up as i generally hauled tall materials. Certainly not a product quality issue. and have ordered replacement and was sent immediately awesome company thank you.
Review by: JOE - PA
Got this replacement cover only because the velcro was no longer working. Replaced cover and velcro strips in the rails. Looking forward to another 6 or 7 years of use. This cover rocks.
Review by: Darrin H. - CT
Purchased the Vanish Roll up cover, and the truck bed mat. Vanish cover is nice, have purchased covers from ACI previously and always a quality product. I purchased the bed mat also. Warning, if you can't stand companies advertising, don't get the bed mat. They could have ironed their advertising in a small area in the back, or on the underside, but this is a bright yellow sticker right there as soon as you open the tailgate. I was going to return it but shipping it back would have cost nearly as much as the mat. I would have given 5 stars because I think the mat is nice, but could do without paying so much for something only to be forced into advertising it.
Review by: Jeffrey R. - LA
The replacement cover for the Vanish roll up was easy to install and has me back to new.
Review by: Paul L. - MD
Very nice product and looks great on my 2023 Nissan Titan PRO 4X. I will say that it would have taken me about 20 minutes to put it on my truck if I had a little more room to work in my garage. I tried to pull pieces needed at the time of install out of the box and while trying to follow the directions it seemed like they were not for my truck. Long story short try to pull everything out, because the Nissan directions were tucked in the cover itself. After I found them it was so much easier and the cover fit so much better lol. It would have been a 20 minute install if it wasn't for my own stupidity and spread all the contents of the box out.