VANISH® Roll-Up Cover
VANISH® Roll-Up Cover
From:
$487.00
$413.95
- 15% Off
Protect your truck bed and cargo without sacrificing the streamlined appearance you prefer with the VANISH® Roll-Up Cover. When closed, this sleek, tonneau cover lies a mere 1/2 inch above the truck bed, virtually disappearing before your eyes from the side or rear profiles. It will give your truck a smooth, streamlined look while providing you with gas mileage savings and protection for your cargo. The tonneau cover pays for itself in the first year of ownership by boosting your gas mileage by as much as 10%! This low profile tonneau cover gives your truck a stylish look and 4-season protection you want at a great low price. The VANISH® Roll-Up Cover is a perfect choice for truck owners who want the lowest-profile design at a remarkably low price.

California Residents: Prop 65 Warning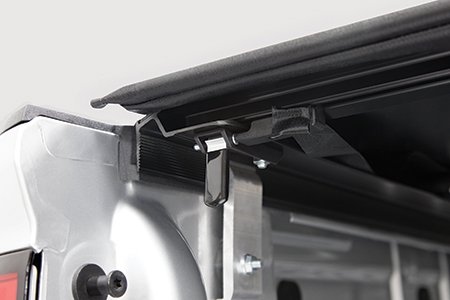 Latching System
The Trigger Latch allows for one finger release to open and automatically locks when the cover is closed.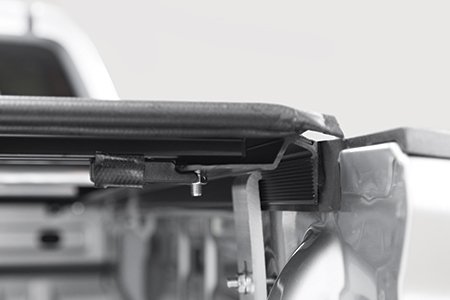 Slide Locks
Two patented slide locks offer additional locked protection for the truck bed cover. Push to lock, pull to unlock. Works with a locking tailgate to give you ultimate protection.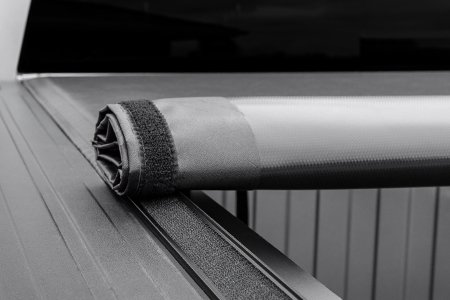 Reliable Fastening System
Hook and loop fastening system provides a high strength seal that runs the full length of the truck bed. Easy one person operation.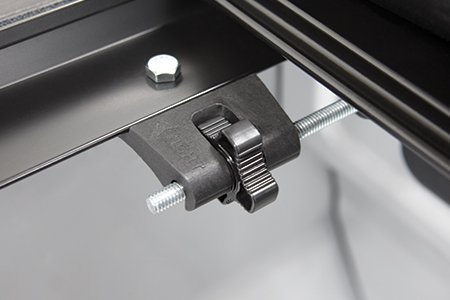 Tension Adjustment
The XT-DIAL™ Tension Adjuster features an easy grip tension adjuster which enables direct tension control with the turn of a dial. No tools - No hassle. Fine tune the tension of the tonneau cover.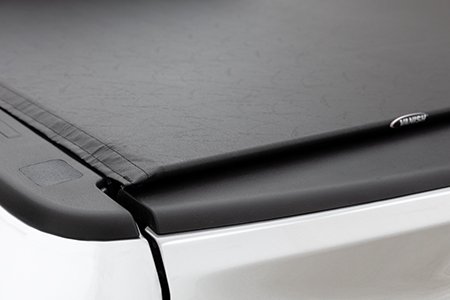 Seals on all 4 sides
Extra ELEMENT SEAL™ Gasket (shown) at front of truck bed provides additional protection. Integrated front and rear vinyl seal. Waterproof foam gasket between rails and truck bed.
Storage Straps
Two convenient adjustable straps made of durable 3/4" webbing.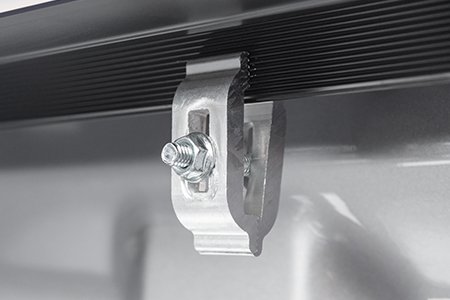 TIGHT BITS™ CLAMPS
Easy to install without the need to drill into your pickup box. Specifically cut 'teeth' maintain exceptional strength with an excellent hold.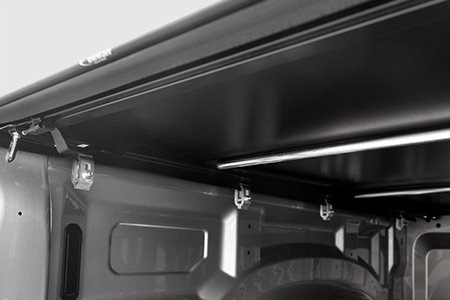 HARDWARE
VANISH® Roll-Up Covers include aluminum mill finish bows with black rails and bars.
Average Customer Rating:
(8 reviews)