ACCESS® TRAILSEAL® Tailgate Gasket
ACCESS® TRAILSEAL® Tailgate Gasket
The ACCESS® TRAILSEAL® Tailgate Gasket seals gaps around the perimeter of your truck's tailgate, preventing dust, rain and snow from entering the truck bed. It installs in 3 easy steps: Just cut, peel and stick. This tailgate seal works with any tonneau, topper or lid. If you want a tight seal on your truck's tailgate, you need an easy-to-install ACCESS® TRAILSEAL® Tailgate Gasket.

California Residents: Prop 65 Warning
Seals The Tailgate
Provides a firm cushion and tight seal when closing the tailgate preventing dust, rain and snow from getting into the bed of your truck.
Fits Any TailGate
Large enough to seal big gaps, yet compressible enough for small ones. It will compress and self-form to any tailgate configuration and can be used with toppers, lids or tonneau covers on any vehicle.
Protect Your Cargo
As you can see from this inside view, your tailgate does not tightly seal without the ACCESS® TRAILSEAL® Tailgate Gasket.
Easy To Install - Just Cut, Peel & Stick!
Measure TRAILSEAL® to the correct length and cut.
Simply peel the red tape off the back side exposing the 3M adhesive.
Attach the TRAILSEAL® Tailgate Gasket to the truck bed to seal all gaps around the tailgate. OEM-quality pressure sensitive adhesive by 3M keeps it in place.
Average Customer Rating:
(6 reviews)
Review by: Richard Y.- IA
The seal works great helps keep dust and water out.
Review by: Gary S.- NY
The tailgate gasket was easy to install, has stayed in place nicely and helped to keep the truck bed and contents cleaner and drier. We've driven some dusty roads the Southwest and a lot of wet, snowy highways in the Northeast and the gasket has certainly done its job. Glad I found this!
Review by: Rick B.
Installation was easy and it fits with the sprayed in bed liner.
Review by: Frank C.- TN
This seal is a perfect cut to fit. It is very durable forming an air tight seal. Directions are extremely accurate and easy to follow.
Review by: Tom L. - WI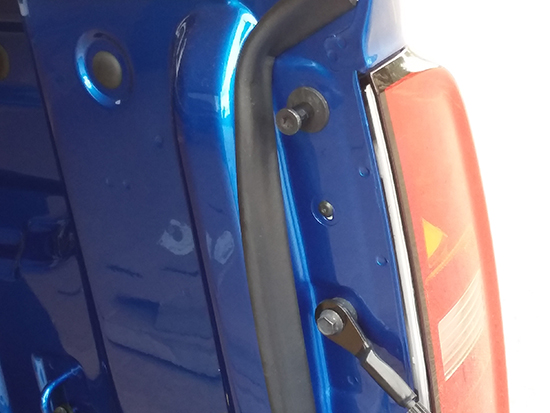 The product installed like the instructions and videos indicated. I am impressed with the product and was surprised to find something like this that was as easy to use and appears to stay in place!!
Review by: Jeff M.- NE
Recently installed the gasket, very good adhesive and stuck real well. I also bought front tonneau seal and the battery led light which installed good as well. And a big thanks to Curt for his assistance.