EZ-LOC® Electric Kit w/Front Cable & Rear Bungee Return
The EZ-LOC® Electric Kit w/Front Cable & Rear Bungee Return assist for the EZ-LOC® Roll-Up Tarp makes opening and closing your side locking tarp easy. The front motor drive has a 90:1 gear ratio combined with a both front cable and rear bungee cord assist creates positive return tension, throughout the entire return cycle. The combination is ideal for farm truck boxes with rear gates. This electric motor kit converts your 2" roll tubes to an electric tarping system on trailers up to 40 feet.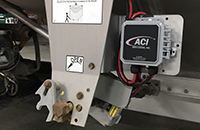 AGRI-COVER™ Switch Control (optional)
The AGRI-COVER™ Switch Control is a weather resistant and durable electric system controlling your tarp.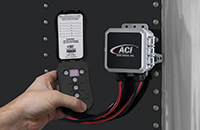 AGRI-COVER™ Switch and Remote Control (optional)
The AGRI-COVER™ Switch and Remote Control is smart and easy to use. Remote controls 99 devices from more than 100 ft. away or from the comfort of your cab.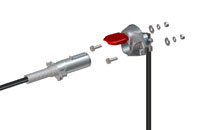 Dual Pole Connector
The Dual Pole Connector comes standard with our Grain Trailer and Grain Cart kits allowing for a quick and simple electrical connection from the tractor to the trailer.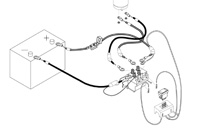 Rocker Switch and Solenoid
Our rocker switch allows the operator to open or close the tarp from the comfort of the cab. All electrical components needed for installation are included.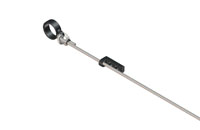 Bungee Return
Our heavy duty Front and Rear Bungee cord returns provide a simultaneous pulling action at both ends allowing for a smooth hands free operation of the tarp.
Average Customer Rating:
(2 customer reviews)
Review by: Allen R. - SD
I just upgraded my existing EZ-LOC to an electric and I can't believe how easy it was. I had one question on the wiring, but your customer service rep knew exactly what I was doing wrong and told me how to fix it. Minutes later it started working perfectly and I haven't had a lick of trouble since. I should have done this years ago. I'll never go back to a manual tarp ever again.
Review by: Michael L. - MN
I just got a new semi and it came with an EZ-LOC electric on it. This is the best thing I've ever had! I can leave a full semi in the field overnight and haul it into the elevator the next morning, and I don't have to leave the cab of my semi. I was surprised it even rolls over the grain when I fill it too full. Thanks for a great product.