SRT-2® Electric Motor Kit
The SRT-2® Electric System makes opening and closing your tarp easy. There is no need to climb in and out of the cab to operate. The slim design allows the electric motor to fit between the box and the cab. Going electric also increases daily productivity by tarping on the go at low speeds. This electric motor kit converts your manual SRT-2® Roll Tarp with all hardware and instructions added.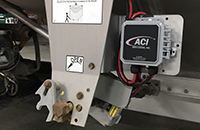 AGRI-COVER™ Switch Control (optional)
The AGRI-COVER™ Switch Control is a weather resistant and durable electric system controlling your tarp.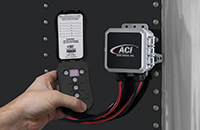 AGRI-COVER™ Switch and Remote Control (optional)
The AGRI-COVER™ Switch and Remote Control is smart and easy to use. Remote controls 99 devices from more than 100 ft. away or from the comfort of your cab.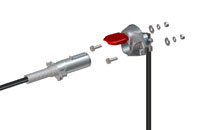 Dual Pole Connector
The Dual Pole Connector comes standard with our Grain Trailer, Grain Cart and Belly Dump kits allowing for a quick and simple electrical connection from the tractor to the trailer.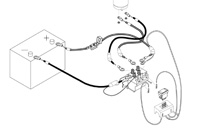 Rocker Switch and Solenoid
Our rocker switch allows the operator to open or close the tarp from the comfort of the cab. All electrical components needed for installation are included.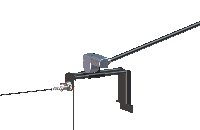 Belly Dump Mounting Bracket
Our custom designed mounting bracket allows the SRT-2® to be converted from a manual operated system to a cab operated electric kit.
Average Customer Rating:
(3 customer reviews)
Review by: Thomas C. - IN
One of the best things I have ever done..Now anyone can open or close the tarp on our big grain cart..my wife or my 90 year old father.Plus, no worries about wind speed or direction. I plan to add another to our smaller cart once it is refurbished.
Review by: Eric N. - NE
This is the first electric system I've ever owned and I can't tell you how great it is. When it starts to rain in line at the elevator I just push a button from the cab and my commodities are protected. I just sit back and smile as everyone else is getting wet while closing their manual tarp.
Review by: Paul M. - IA
WOW! I just bought a fertilizer spreader with an SRT-2 Electric. What a great product, no more getting in and out of the cab to roll and unroll the tarp. That means I get in the house a few minutes early each night, sometimes those few minutes make all the difference, especially when it's "story time" for the kids