ROCKSTAR™ Splash Guard Mud Flaps
ROCKSTAR™ Splash Guard Mud Flaps
Sold in set of two. Coverage: Front or rear.
Please allow 1 week for your order to ship.
Undeniable protection you can count on, the model specific and universal ROCKSTAR™ Splash Guard Mud Flaps come armed for unexpected surprises with practical versatility and efficient performance. Built from durable composite rubber for additional strength and to prevent the formation of snow and mud build-up. Select between full size 23 and 20 in. or midsize 18 in. length for the best combination of function and fit. The ROCKSTAR™ Splash Guard Mud Flaps are equipped with polished trim plates or without for a subtle appearance. Don't get caught without ROCKSTAR™ Splash Guards Mud Flaps on your next adventure.
Recommended splash guard ground clearance is 5 to 7 in., suggested clearance with a load is 3 in. minimum to prevent dragging. Aftermarket products and changes to OEM specifications may cause improper fit to model specific behind the wheel mud flaps. Solid mounting surface required for install.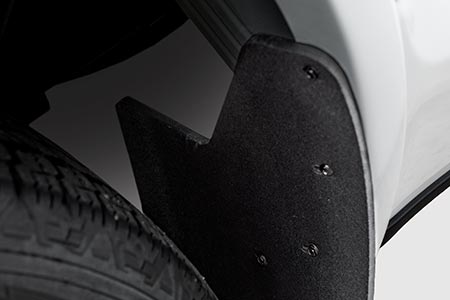 Installs in Minutes
MODEL SPECIFIC: Built for the perfect fit with model specific, factory cut mounting locations. Available in 23, 20 and 18 inch lengths.
UNIVERSAL: Utilize the included guide to aid with a level installation and ensure recommended ground clearance. Available in 23 and 20 inch lengths.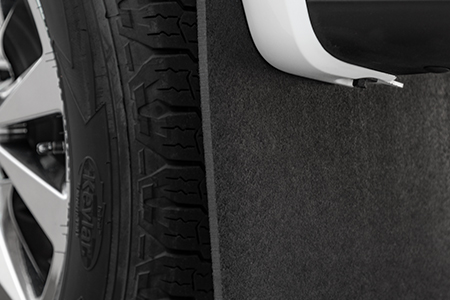 5/16 in. Composite Rubber
Extruded for additional strength and pliable to -40° F. The flat exterior prevents mud and snow build-up. Our rubber won't distort the color of your truck.
Average Customer Rating:
(1 review)