ROCKSTAR™ Full Width Tow Flap
ROCKSTAR™ Full Width Tow Flap
From:
$321.00
$272.85
- 15% Off
Not compatible with deployable bed step.
Easy to install, easier to use! ROCKSTAR™ Full Width Tow Flaps feature a contoured profile for ultimate protection. Five-sixteenths inch rubber combines with rustproof, black urethane coated aluminum to stop debris from damaging your toys. These lightweight mud flaps are easy to store when not in use. Adapt to changing conditions without the need for extra hardware or tools. Simply attach to model specific, anti-sailing mounting brackets with included yellow zinc linch pins, paired perfectly with a fifth-wheel trailer. ROCKSTAR™ Full Width Tow Flap offers the perfect fit.
Recommended mud flap ground clearance is 6 to 8 in. Suggested clearance with a load is 3 in. minimum to prevent mud flaps from dragging. Designed to fit OEM receivers and bumpers, may not fit aftermarket products.

California Residents: Prop 65 Warning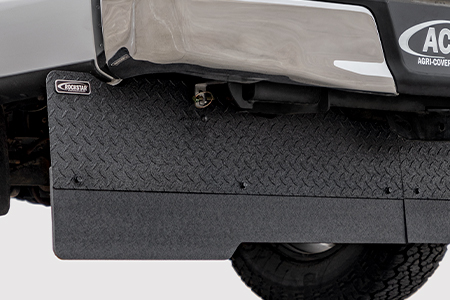 Model Specific Design
Shaped to follow the lines of your pickup for extreme protection and to prevent contact with OEM exhaust. Mounting brackets made from stainless steel decrease sailing and bolt directly to existing holes in the frame, no need for drilling.
Perforated frame for OEM Dual Exhaust. For dually, Tow Flap Extension is needed for full coverage.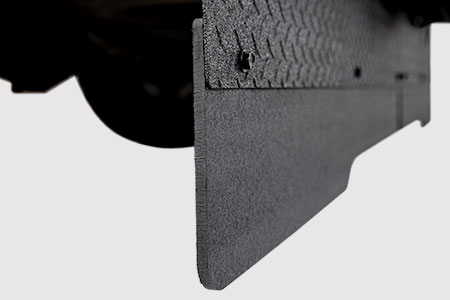 5/16 in. Composite Rubber
Remains pliable to -40° F and helps prevent debris and ice build-up.
Adjustable rubber available and allows up to 4 in. higher than OEM ride height.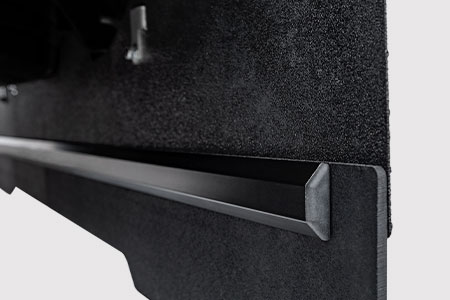 Corrosion Resistant Frame
Manufactured with a black aluminum stabilizing bar to black urethane coated aluminum plate.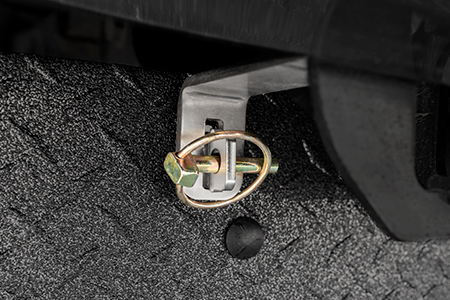 Easy On and Off
Tow flap secures to mounting brackets with yellow zinc linch pins.
Average Customer Rating:
(51 reviews)
Review by: Sean L. - NJ
It's amazing. Easy to install , easy on and off, Customer service was amazing. Thank you.
Review by: Parker S. - TX
Man, I sure wish I would have known about this product YEARS AGO! The trailer I purchased had an option to add an air dam/rock guard to it, but that was a $700 plus add on. So I opted not to do it.Additionally, I really disliked the hitch mounted rock guard because most of them required a special trailer tongue. I already have a WeighSafe. For half the cost of an air dam AND I can utilize my existing hitch tongue, ROCKSTAR for the win! It saved the front of my Camaro from everything my truck blasted it's way.
Review by: Dennis B. - ND
Absolutely love this product. Its on all the time. Because it's underneath the bumper, I can run it through a car wash VS the hitch mount style. I can change out my receiver hitches as needed for the boat or camper also because it's mounted underneath the bumper. If on the rare occasion I have to take it off it's super simple just pull 2 pins.
Review by: Tim L. - MN
I ordered the Full width tow flap with adjustable height. This product fit perfectly, the instructions were very straightforward which made installation very easy. great product!!
Review by: Tory R. - TX
Love these things. I pull my boat back and forth from Texas to Louisiana and after one trip without mud flaps I had tons of rock chips. I ordered these and they worked amazing. Definitely worth the investment and I love how you can remove it easily with 2 pins. Such an easy and well built system!
Review by: Dustin J. - MN
These work great, look great, and are easy to put on and take off. Helps with the extra insurance of our camper not getting pelted with rocks and grime in summer and winter.
Review by: Terry K. - ON
Here's a video review on our very positive experience with the Rockstar tow flap on our 11141 mile trip to Alaska: https://youtu.be/8v4b-8Bu7rM
Review by: Josh T. - ND
Awesome product and simple to install.
Review by: Peter F T. - MI
Towed a new Lund boat through 60 miles of gravel road. Total protection. Ordering was easy and I received on time.
Review by: James D. - CT
Very nice fairly easy to install, only issue where exhaust comes out does not line properly. Cut out needs to go a little further to the right
Review by: Tim F. - WA
Looks good, easy install
Review by: Erik N. - CA
This mudflap is a great product. Assembly is easy and only takes about 30 minutes. Attaching and removing the mudflap is very easy and can be done in less than 60 seconds. I highly recommend this product.
Review by: John H. - MI
Product as described on website. Excellent customer service and quick product delivery. I am very happy with the design and quality of the full width mud flap.
Review by: Mark J. - NM
Just wanted to say how much we love this flap! 15 minutes to install and it's the lightest, easiest mudflap around!!! Thanks so much!
Review by: Jason M. - IN
Very nice product. Easy to assemble and install. All hardware was in the package. Looks great on the truck and model matched perfect.
Review by: Chris L. - MN
I purchased this product, after looking at other brands, mainly for the design and craftmanship. I have to say I could not be happier. I use it to protect my camper while towing and it has performed flawlessly. I like it so much I'm buying another one for my new truck. Stop thinking about it, just buy one! you will not regret it.
Review by: Perry L. - ND
Excellent product but stripped the head of the bolt that holds it to the frame.
Review by: Gregory H. - MI
Quality product and delivery. Not the best information of installation. More details are needed and better pics.
Review by: Brian M. - MN
It's really nice having a flap that will provide protection to the front of my Enclosed NEO Trailer and will work with any Hitch on the Market. Plus it can't rock up and down on the end like Hitch mounted ones do.
Review by: Eric A. - WA
Easy to assemble and easier to install and remove as needed.
Review by: Chuck D. - OR
Company is great to deal with
Review by: David D. - CA
Fits great. Looks like it will provide great protection for our travel trailer. We are headed for Alaska for the summer, it will be interesting to see how well it does after 8,000 mile tow.
Review by: Tim C. - ND
Easy to install and works awesome! I was concerned it was going to rub on the bumper but it fits perfectly! Great product!
Review by: Jamie L. - ND
Very nice
Review by: Brian S. - MI
Absolutely the best , great people , great service & a great product . Hard to find company's like this one anymore ! B
Review by: Michael S. - MN
Easy to install and fits great on my 2019 AT4. No more rock chips on my boat.
Review by: Bryan D. - SD
Great product, high quality, simple & quick install and all at a fair price.
Review by: Phillip S. - ND
Great product! From form to fit and function everything is great and works as advertised. The product looks factory correct on my all black Denali. The full width tow flap is perfect at keeping my boat, car hauler, and blacked out enclosed trailers looking amazing. Thanks!
Review by: Tom G. - WI
I had to make some adjustments to the bracket that attaches to the bumper. Other than that, I'm very happy with the product.
Review by: Jamie S. - MN
What an Awesome and very easy to install product! Very well built and will last for years of towing and protecting y towed vehicles!!
Review by: Doug T. - ND
After trying several different hitch mounted mud flaps, I found these online. All I can say is WOW. Easy installation and they do a great job protecting my boat. Even if I'm not towing, I like to keep them on since they look so good on the truck!
Review by: Bob R. - NY
Its made very well,and the fit is perfect. Good product .
Review by: Larry N. - ND
Great product, easy to mount. Exact fit. Reasonable priced.
Review by: Britt M. - IL
The Rockstar tow flap is a fiberglass saver! We throw the tow flap on every time we are moving our boats so the tires don't kick any rocks up at the bow of the bow. Install was super easy. I love that we can remove the flap when we don't need it but quickly (within seconds) reinstall the flap with the spring clips. The flap offers tons of protection and it looks great!
Review by: Gerry M. - ME
shipping was fast. install was simple, but, instructs were a little odd. Photos always look at photos never read instructions. Over all really happy with this. Cuts the splash up onto trailer by 75% will never stop all but helps alot.
Review by: Lynn H. - SD
I have bought 2 full length before bumper and one hitch mount full length mud flaps
Review by: Jeremy P. - SD
Easy to install. Works as advertised.
Review by: Lynn H. - SD
This is the third Item I have ordered from you and I am very happy with all three. Two before rear bumper and one hitch mounted full length mud flaps. one for each of my trucks. I like the before bumper more, but the hitch mount allows for other trucks to use while using my trailers.
Review by: David F. - TX
Spectacular product!!! Very easy to assemble and install, no more that 40mins and it's ready to go! After the trailer was attached to my F-150, the tow flap was about 3-4 inches off the pavement, perfect! Drove about 200miles, no issues. Love the protection that it provide against small rocks, gravel, and such for the trailer.
Review by: Art V. - CO
Easy 15 minute install and perfect fit. Gotta like that! Well worth the investment.
Review by: Jason W. - MO
Solid product and fairly simple to assemble. Seems to do the job and keep mud and debris off the trailer.
Review by: DC H. - WA
Love them! Fit perfect, the directions were spot on. This will protect my trailer when out on adventure. THX
Review by: Jeanne P. - OR
LOVE IT but disappointed that I was told to buy extenders as the original is plenty wide enough.
Review by: Travis R. - ND
Awesome product
Review by: Darin F. - IA
Very good product. Easy to put together and install
Review by: Phil L. - OH
I like the full med flap. I had a question and called the company, they were very helpful. I would definitely buy this product again.
Review by: Andy B. - OH
These under bumper mount tow flaps are great. They are much easier to put on/off than hitch mounted tow flaps. They are well constructed and appear that they will have a long service life.
Review by: Kent R. - TX
I am very happy with these tow flaps. I had an issue with them and it was resolved immediately. This company stands behind its products. I would not hesitate to recommend ACI for any of their products and will absolutely be using them again in the future.
Review by: Mike M. - PA
The full tow flap seems to work well for keeping stones from chipping my boat. It's well made but didn't quite fit the brackets after mounting them on the truck. I had to bend the aluminum plates a little bit to fit over the brackets. But overall I recommend it.
Review by: Marge B. - ND
Husband likes the product