LOMAX™ Professional Series
The LOMAX™ Professional Series boasts maximum protection with an innovative low profile design. This diamond plate, hard tonneau cover emphasizes a weathertight seal, easy installation and simple one-person operation. The aluminum panels with a water shedding design and reinforced waterproof vinyl coated hinges prevent elements from entering the truck bed. Added extruded aluminum channels under each panel increase strength, making the LOMAX™ Professional Series stronger with minimum additional weight. For a quiet ride, limited metal-on-metal, vinyl coated hinges and flexible rubber seals combine to reduce noise and vibration. Redefining rugged, the LOMAX™ Professional Series is committed to quality and durability.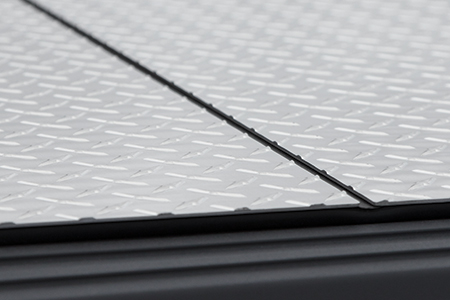 Ultra Low Profile
At less than 1/2 inch above the truck bed, the unique diamond plate finish of the LOMAX™ Professional Hard Tri-Fold Cover adds a whole new dimension to your truck's appearance.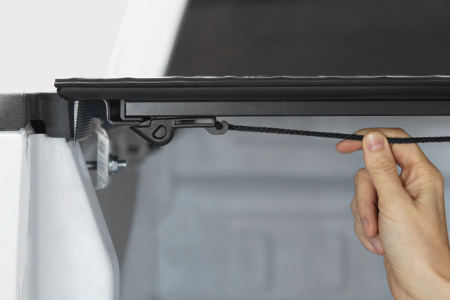 Simple to Operate
Open tonneau cover by pulling release latch from either side and fold panels to automatically disengage additional locks, then fasten built-in storage clips. Close by unfastening storage clips and unfold panels using integrated handles. The hard tonneau cover locks automatically at 10 points when closed, keeping gear protected and out of view.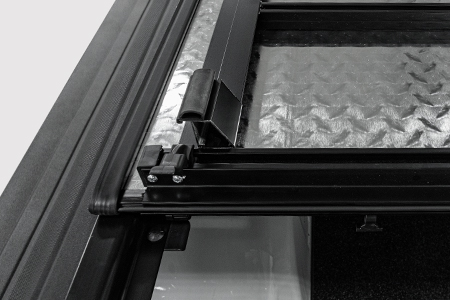 Weathertight Seal
Water shedding design and reinforced vinyl coated hinges direct water away from the box without drains or gutters. The hard tri-fold cover overlaps the box rails with a continuous seal down the entire length of the side rails, preventing dirt, snow, rain and dust from entering the pickup bed.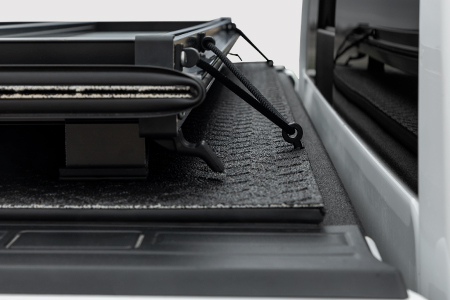 Incorporated Storage Clips
Sleek, retractable storage clips hold truck bed cover in place and rigid standoffs with vinyl caps keep panels appropriately spaced in the folded position. No adjustments needed.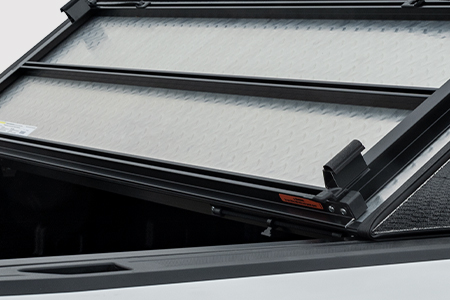 Strong, Yet Light in Weight
LOMAX™ Professional Series includes additional aluminum channels under each panel. The extruded aluminum channels support the panels to hold up to 500 pounds of evenly dispersed weight, while weighing approximately 60 pounds for an impressive strength-to-weight ratio.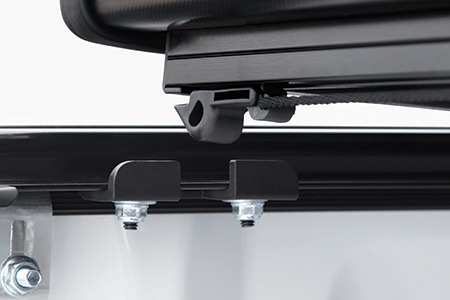 Easy Install
Use 8 TIGHT BITE™ Clamps to install rails. Engage hooks by sliding cover forward and placing into retainment brackets. Unfold panels, cover automatically locks at 10 points when closed. No drilling required.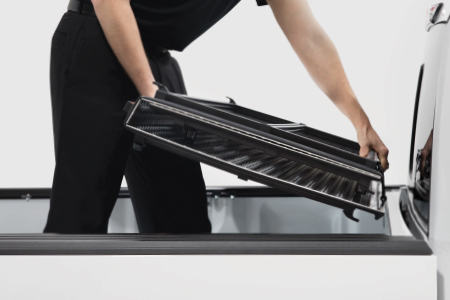 Simple to Remove and Reinstall
With cover open and storage clips fastened, on front panel pull latch and disengage hooks by sliding cover back, then lift for removal. To reinstall, engage hooks by sliding the tonneau cover forward and place into retainment brackets. Cover locks automatically in place.
Average Customer Rating:





(2 customer reviews)
Review by: Corey - ND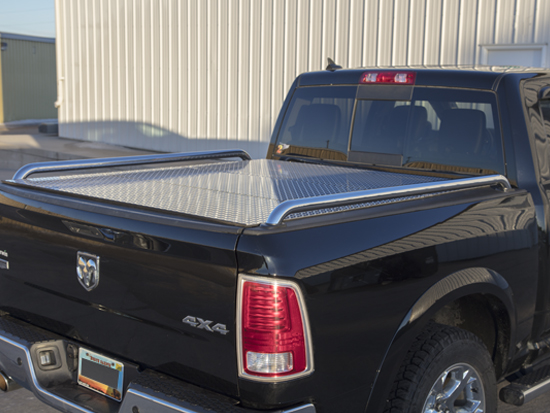 My new Lomax Professional Series Cover adds just the right touch to my 2013 Ram pickup. The tonneau cover is built really well. I'm confident it'll hold up to the wear and tear I put my truck through. The diamond plate looks sharp on my truck, I've already received several compliments. It's a heavy duty cover and I have no problem opening and closing it when I need to. The quality of this cover is unmatched by others I've had in the past.
Review by: Jessie J.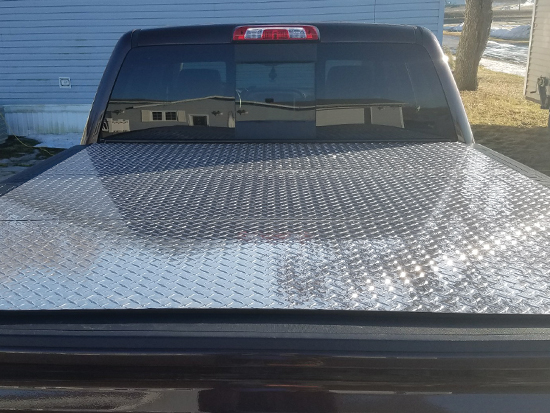 I love the way my truck looks with my new Lomax Professional Series Cover on it. If I need to haul something large, it is easy to take off. I also like knowing everything in my truck bed is protected. Overall, I'm really happy with this cover and would recommend it to anyone looking for a tri-fold.