ADARAC™ Pro Series & LOMAX® Cover Combo
ADARAC™ Pro Series & LOMAX® Cover Combo
From:
$1,729.00
$1,469.65
- 15% Off
Look no further for stand out style! With LOMAX® Folding Hard Covers and ADARAC™ Aluminum Pro Series, you can dare to be different. Available in multiple finishes, the lightweight durable truck bed cover features aluminum or carbon fiber panels for an ultra low profile design. Using adjustable and removable vertical uprights, the truck bed rack increases carrying capacity while supporting hefty loads with limited framework interference. The LOMAX® Folding Hard Cover and ADARAC™ Aluminum Pro Series are built for strength and designed for convenience.

California Residents: Prop 65 Warning
Features of the ADARAC™ Professional Series Truck Rack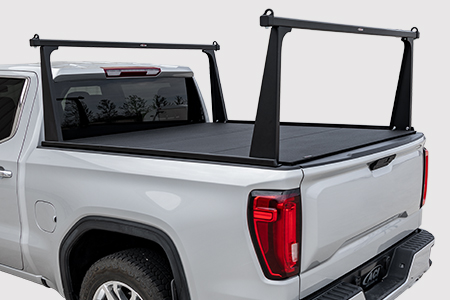 Rust Resistant Framework
Height above the box rail: 24 in. for mid-size, 26 in. for full size and 20-ON Jeep Gladiator 5' box and 27 in. for Super Duty and 20-ON GM HD 6' 8" trucks. Load dividers sit an additional 3 in. above cross bars.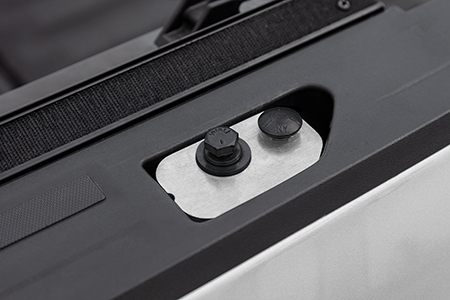 Easy Installation
Aluminum stake pocket inserts, no drilling needed.
Trucks without stake pockets require drilling.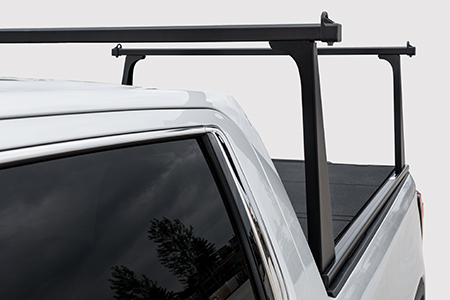 Vertical Uprights
Limited framework interference for maximum payload capacity. Simple to remove or reposition.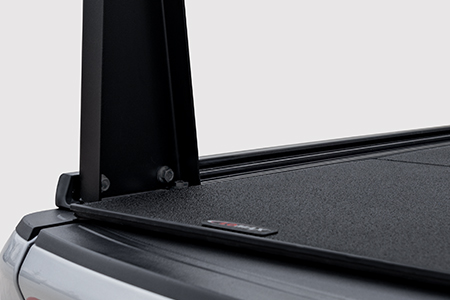 Utility Rails
Conveniently attach accessories and secure gear with integrated mounting channels, use with or without uprights.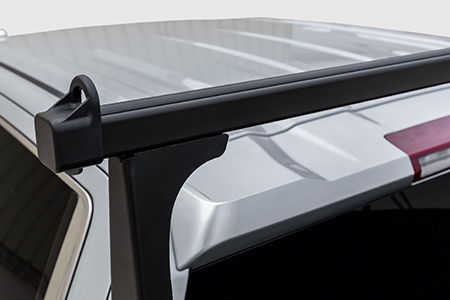 Multi-Functional Cross Bars
Easily attach accessories and secure cargo using integrated mounting channels across the top and bottom. Anti-slip, anti-vibration rubber helps stabilize cargo.
Cross bars are 72 in. L x 1-1/2 in. W x 1-1/2 in. H. and 66 in. L for mid-size trucks.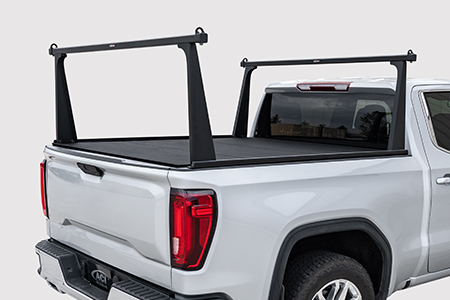 Cover Compatibility
Works with LOMAX™ Folding Hard Covers, ACCESS® Roll-Up Covers and most inside the rail tonneau covers.
Tonneau cover not included.
Features of the LOMAX® Folding Hard Cover
Automatic Dual Locking System
Release both locks simultaneously by pulling the synthetic cord from either side. Heavy duty nylon latches provide 1/2 in. surface for solid positive engagement.
Automatic Ten Point Locking System
Unfolding each panel locks the cover automatically at ten points with heavy duty reinforced nylon components.
Weathertight Seal
Water-shedding design and waterproof hinges route water away from the truck bed, no drains or gutters needed. The hard folding tonneau cover overlaps the bed rails with a continuous seal along the full length of the side rails, preventing rain, dirt, dust and snow from entering the truck box.
Strong Yet Light in Weight
Extruded aluminum channels reinforce the panels to support up to 400 pounds of evenly distributed weight, while weighing approximately 50 pounds for an impressive strength-to-weight ratio.
Incorporated Storage Clips
Retractable storage clips hold tonneau cover firmly in place and rigid standoffs with vinyl caps keep panels perfectly spaced in the folded position. No adjustments necessary.
TIGHT BITE™ Clamps
Installs in minutes without the need to drill into your truck box. Specifically cut 'teeth' maintain superior grip and exceptional strength.
Average Customer Rating:
(24 reviews)
Review by: Charles G. - TX
Finished product look awesome on my 2020 Ram. Cover install was easy and strait forward. Very minor leakage between tailgate and cover that I can probably adjust out. Rack install a little more involved on the RAM. The stake pockets on RAM are not centered in the front, the plate had to be modified (cut +/- 1/2 off one long side) to get it to grab and be secured. I have the rails installed, but only use rack occasionally so not installed until needed. Great kit!
Review by: Casey S. - LA
The best bed cover that I've seen out there. Keeps all my tools dry and secure. And it looks good on the work truck. The only think is I wish it was made for 8' beds so I can buy one for my other truck. Can't go wrong with this bed cover.
Review by: Tony P. - NC
It was great that I could get a combination of what seems to bet the best options that fit my truck. The truck bed cover was easy to install once I understood the directions. I was overly cautious because I did not want to redo everything but once I got through the process I understood everything and to totally redo everything would not take very long. I have not put on the rack yet because of weather and time but it also seems pretty simple to do and the components are very solid. Both systems have a great finish an the fit of the cover is perfect and my bed has remained dry through a few heavy rain storms. I do not know if that would be true going down the highway in a storm but I have to believe that the bed would stay dry.
Review by: Michael H. - PA
Installation was easy for LOMAX and ADARAC. love te cover. The ADARAC rack was taller then I was told. Rack on will not fit in the garage.
Review by: Jesse P. - NV
I love this cover as well as the rack. I keep the cover on full time, and add or remove the rack as needed, mostly for transporting kayaks. The installation was fairly easy as well. Great products for my F250.
Review by: Robert S. - WI
I needed help with installing the Access cover, and the techs at ACI were excellent. The product is well made, and easy to assemble. The only changes I recommend would be to use stainless hardware for the rack, and cover material could be a little thicker.
Review by: Bruce K. - AZ
Great product with easy install.
Review by: Gary Y. - OR
Excellent products and customer service.
Review by: Christopher R. - MA
Easy to install and works very well. I like the roll up cover much more than the tri fold. Racks are very sturdy and lightweight.
Review by: Michael T. - OH
Great product. Strong, durable and looks good!
Review by: Joel B. - MS
The installation was easy and works very well. The price is great as well. Looking to do the same setup on my new truck!!
Review by: Richard S. - MT
Since putting the Lomax bed cover and Adarac pro rack on I have been very impressed with both it's great to have a rack and still be able to open the cover
Review by: Bill F. - ID
Easy to install. It's great to use the bed top rail holes finally. It's also easy to remove and reinstall when I don't need it, or for long trips. I have the trifold hard cover also, it was also easy to install. I haven't noticed any water leaking from around the cover after power wash my truck.
Review by: Tom C. - OR
What a great cover and rack! Fits my needs exactly! If you are thinking about a cover/rack combo, you will not be disappointed.Eddie in customer service is awesome to work with. He responded via phone and email quickly.Overall a definite 5 star product and customer service.
Review by: Gary T. - WI
They were easy to install once watching videos.Emailed question on 2022 rear stake box. Received phone call right away and they sent a link to a video showing that I needed to remove rear tail lights to do rear stake box install with long bolts.
Review by: Andrew B. - MI
I am very impressed with my new ADARAC Pro Rack and LOMAX cover. Installation was a breeze and it functions just as advertised. I am pleased with the function and appearance of both products. I highly recommend this cover and rack combination.Thank you Agri-Cover, Inc. for your great procucts.
Review by: Chad D. - FL
Product seems to be of good quality. Customer service was awesome when I called because I installed the roof top brackets in the wrong place. Highly recommend this product and company!
Review by: Travis B. - VA
The hard cover catches the racks while folding up the first panel. It opens with some maneuvering and light scraping. Overall it is only a minor inconvenience, however, at the price point for this combo option it would be nice to function without incident. The products are well built and look great. Installation instructions have a few minor details missing.
Review by: Kyle - MI
Spent a lot of time looking for a perfect truck bed rack and cover combo for our needs. The ADARAC Pro Rack is great system, and built very well! Super impressed in the rigidity of the system and the attention to detail even down to the packing making sure your new rack wasn't getting scratched. The ACCESS limited roll up cover fit like a glove and works perfectly. Very happy with my purchase, and have already recommended them to others.
Review by: Emily V. - CO
We couldn't be happier with our new cover!
Review by: Jake E. - MO
I've had many different brands and style of Tonneau covers over the years from roll and lock, to a few Backflip models, and now this Lomax that I combined with the Ada rac pro aluminum series and I couldn't be happier. Everything fits like a glove. Installation was super easy and the 2 products work flawlessly when used together. The lomax cover is light yet sturdy and seems to keep my bed completely water tight besides the occasional car wash/power wash that gets through the cracks in the tailgate. Again, couldn't be happier especially for the proce! Thanks for great products!!
Review by: Rodger B. - PA
Easy to install , works great. Keeps water out very well.