LOMAX™ Hard Tri-Fold Cover
Please allow 2 weeks for your order to ship.
LOMAX™ Hard Tri-Fold Cover maximizes your truck with an ultra low profile design and superior protection. This hard tonneau cover is light in weight and designed for strength, style and security, while being easy to operate and convenient for one person to install and remove.
LOMAX™ Hard Tri-Fold Cover uses durable aluminum panels with strong, waterproof, reinforced vinyl coated hinges. Each panel is manufactured from aluminum alloy used to build commercial trailers and the textured matte black finish blends with your truck's OEM bed caps for a polished appearance. Extruded aluminum channels support the panels, keeping the hard truck bed cover rigid and reducing weight. More than 90% of LOMAX™ Hard Tri-Fold Cover can be recycled. Vinyl coated hinges, rubber seals, and minimal metal-on-metal contact combine to reduce vibration and noise for a quiet ride.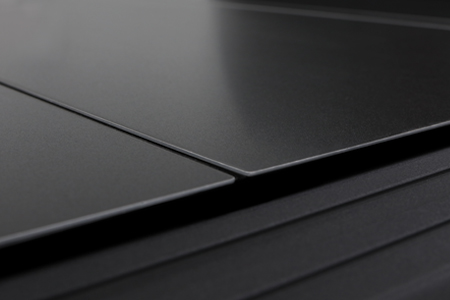 Low Profile Design
At less than half an inch above the truck bed, LOMAX™ Tonneau Cover's textured matte black finish perfectly complements your truck and OEM bed caps.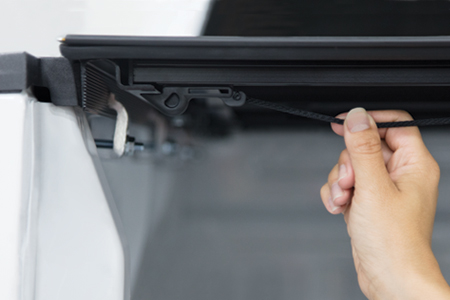 Easy Operation
Open by pulling cord from either side to disengage latches; folding panels automatically releases additional locks. Secure LOMAX™ Hard Tri-Fold Cover with built-in storage clips. Close by unfastening storage clips and use integrated handle to unfold each panel. When closed, the tonneau cover automatically locks at 10 points, keeping your gear out of sight and protected.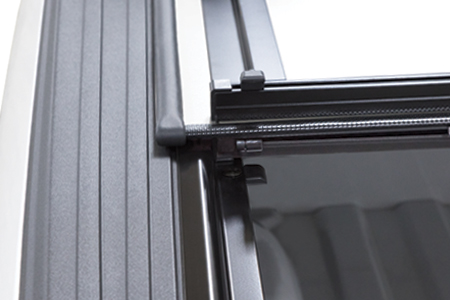 Weathertight Seal
Water-shedding design and watertight, reinforced vinyl coated hinges route water away from the truck bed, no drains or gutters needed. The hard folding tonneau cover overlaps the bed rails with a continuous seal along the full length of the side rails, preventing rain, dirt, dust and snow from entering the truck box.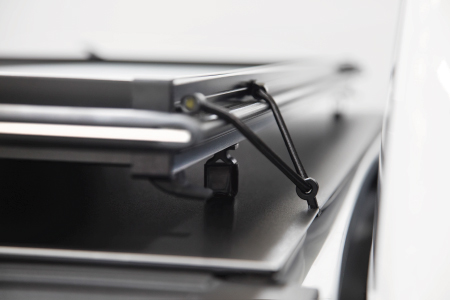 Incorporated Storage Clips
Retractable storage clips hold tonneau cover firmly in place and rigid standoffs with rubber pads keep panels perfectly spaced in the folded position. No adjustments necessary.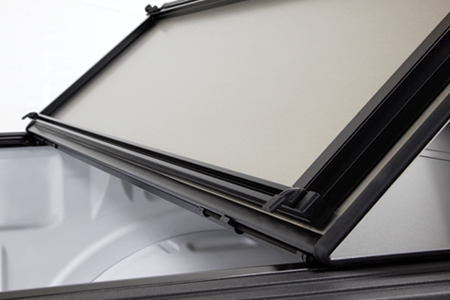 Strong Yet Light in Weight
Extruded aluminum channels reinforce the panels to support up to 400 pounds of evenly distributed weight, while weighing approximately 50 pounds for an impressive strength-to-weight ratio.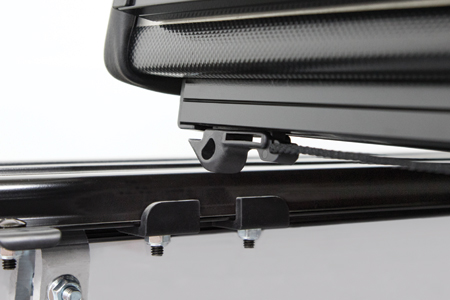 Simple Install
The rails install with 8 TIGHT BITE™ Clamps. Slide LOMAX™ Tonneau Cover forward to engage hooks, then place into retainment brackets. Unfolding each panel automatically locks truck bed cover at 10 points when closed. No drilling needed.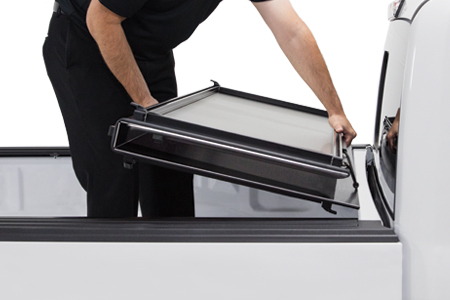 Easy Removal and Reinstallation
With LOMAX™ Hard Tri-Fold Cover open and storage clips fastened, pull cord on front panel, slide tonneau cover back to release hooks, and lift to remove. To reinstall, slide tonneau cover forward to engage hooks and lower to automatically lock in retainment brackets.
Average Customer Rating:





(3 customer reviews)
Review by: John S.- MN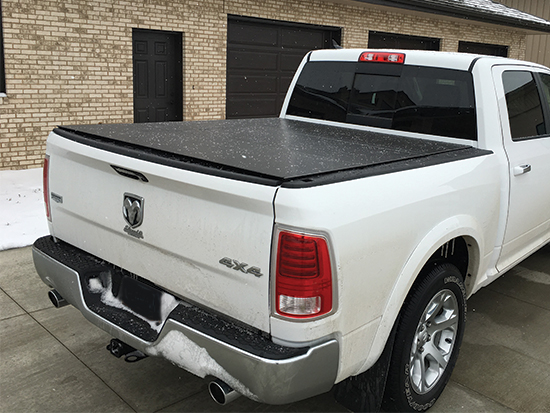 My Lomax cover allows for flexibility and security all in one. The tonneau cover can be easily folded up or removed to carry over-sized cargo. Also, it fits in the backseat. It is good to know that when I lock my tailgate, my truck bed is secure. But my favorite aspect of the cover is its look. It is low profile and looks great on my tuck. I am very happy with the product.
Review by: Justin K. - ND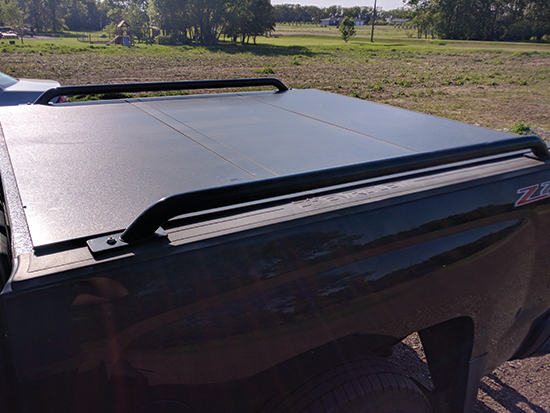 The Lomax tri-fold cover is waterproof, folds with ease and I love that it is totally removable, if necessary. It is very lightweight and durable and folding it is so simple. I really like that the back panel locks automatically. I would highly recommend this product for anyone looking for a hard tonneau cover.