LOMAX® Folding Hard Cover
LOMAX® Folding Hard Cover
From:
$1,113.00
$946.05
- 15% Off
LOMAX® Folding Hard Covers maximize the utility and appeal of your truck. An ultra low profile design combined with strong, waterproof hinges and durable panels delivers strength, style and security. This hard tonneau cover is lightweight, making it easy for one person to install, operate and remove. LOMAX® Folding Hard Cover is available in multiple finishes to complement your truck and personal preference. Extruded aluminum channels provide extra support, keeping the hard truck bed cover rigid and strong enough to hold 400 lbs. Keep your cargo out of sight and secure with the automatic latching system or open the tonneau cover to haul large items. There's no need to compromise with LOMAX® Folding Hard Covers.

California Residents: Prop 65 Warning
Automatic Dual Locking System
Release both locks simultaneously by pulling the synthetic cord from either side. Heavy duty nylon latches provide 1/2 in. surface for solid positive engagement.
Automatic Ten Point Locking System
Unfolding each panel locks the cover automatically at ten points with heavy duty reinforced nylon components.
Weathertight Seal
Water-shedding design and waterproof hinges route water away from the truck bed, no drains or gutters needed. The hard folding tonneau cover overlaps the bed rails with a continuous seal along the full length of the side rails, preventing rain, dirt, dust and snow from entering the truck box.
Strong Yet Light in Weight
Extruded aluminum channels reinforce the panels to support up to 400 pounds of evenly distributed weight, while weighing approximately 50 pounds for an impressive strength-to-weight ratio.
Incorporated Storage Clips
Retractable storage clips hold tonneau cover firmly in place and rigid standoffs with vinyl caps keep panels perfectly spaced in the folded position. No adjustments necessary.
TIGHT BITE™ Clamps
Installs in minutes without the need to drill into your truck box. Specifically cut 'teeth' maintain superior grip and exceptional strength.
Average Customer Rating:
(15 reviews)
Review by: John S.- MN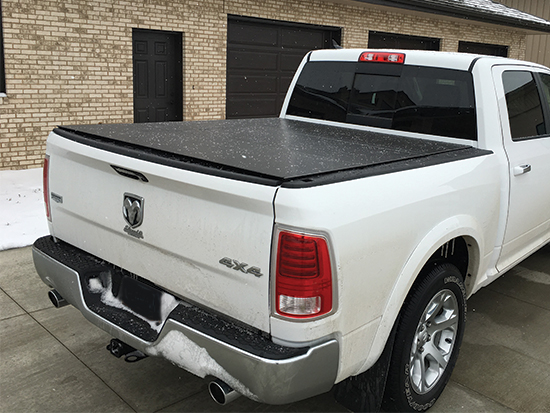 My Lomax cover allows for flexibility and security all in one. The tonneau cover can be easily folded up or removed to carry over-sized cargo. Also, it fits in the backseat. It is good to know that when I lock my tailgate, my truck bed is secure. But my favorite aspect of the cover is its look. It is low profile and looks great on my tuck. I am very happy with the product.
Review by: Justin K. - ND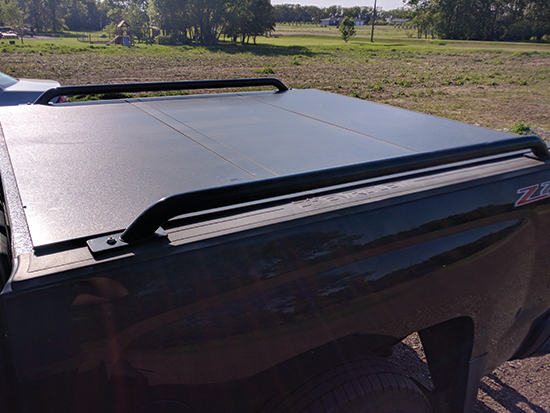 The Lomax tri-fold cover is waterproof, folds with ease and I love that it is totally removable, if necessary. It is very lightweight and durable and folding it is so simple. I really like that the back panel locks automatically. I would highly recommend this product for anyone looking for a hard tonneau cover.
Review by: Levi K.- ND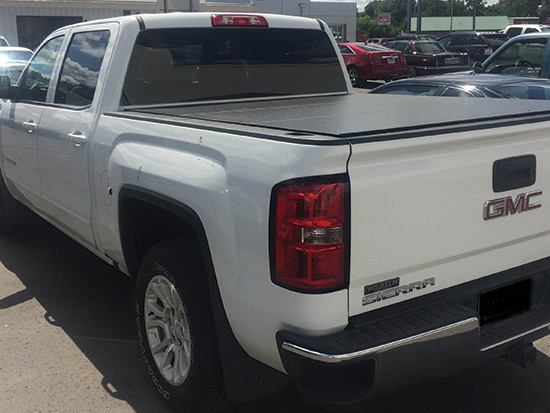 The Lomax tri-fold cover is durable and looks great! I like how the storage straps are hidden and out of the way. The seals and hinges do a great job at keeping my truck bed dry. And this hard tonneau cover is light enough that my wife can use it.
Review by: Corey - ND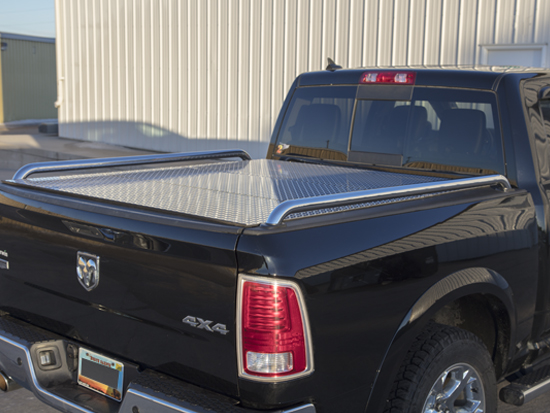 My new Lomax Cover adds just the right touch to my 2013 Ram pickup. The tonneau cover is built really well. I'm confident it'll hold up to the wear and tear I put my truck through. The diamond plate looks sharp on my truck, I've already received several compliments. It's a heavy duty cover and I have no problem opening and closing it when I need to. The quality of this cover is unmatched by others I've had in the past.
Review by: Jessie J.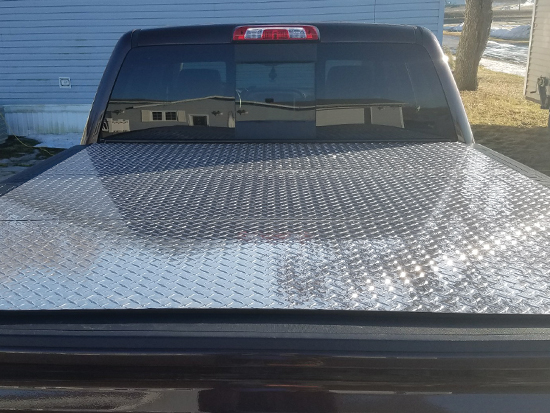 I love the way my truck looks with my new Lomax Cover on it. If I need to haul something large, it is easy to take off. I also like knowing everything in my truck bed is protected. Overall, I am really happy with this cover and would recommend it to anyone looking for a tri-fold.
Review by: Robert R.- LA
Love this cover. Easy to install, water tight, looks good and solid aluminum panels, not a styrofoam aluminum sheet.
Review by: Dale - WY
This design and concept of this tonneau cover is unique and very impressive . Easy to install, (definitely use a couple of large spring hand clamps to hold up the rails while installing). The low profile is like no other truck bed cover out there. It adds to the looks of the truck immensely and is also totally functional for its intended purpose. We had a minor warranty issue that was handled immediately. The customer service from original sale to the warranty was tremendous. Quality of the product is excellent but yet light weight for ease of use. Thank You ACI.
Review by: Larry-Rosie L.- CA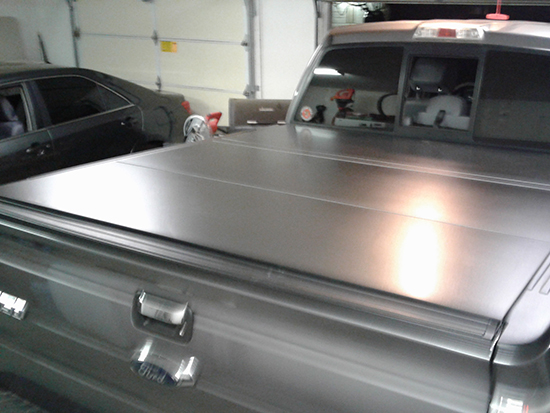 Great product easy to install (even a caveman could do it). Have not driven in the rain yet so I dont know about leaks.
Review by: Al A. - OH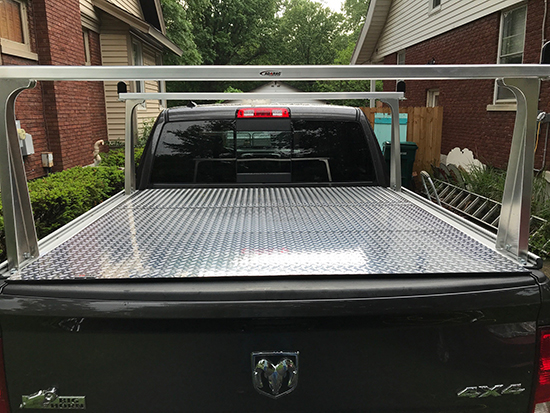 Bought the professional series Adarac and Lomax cover and would love to give it a review for you. Wife and I installed them on our 2016 Ram and are extremely pleased with our choice. This is our play truck to to take camping and hauling our kayaks. We've gotten 5 kayaks up on it and could maybe squeeze on a 6th. The Lomax is watertight, nothing has penetrated.
Review by: Richard S. - ON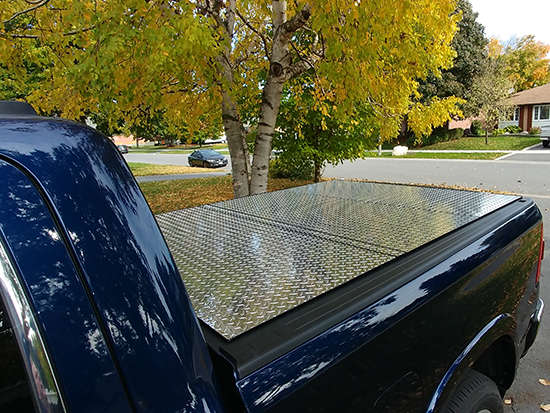 Installed the cover yesterday on my 2019 Ram Laramie Longhorn. Fit perfect and looks great.
Review by: Jesse D. - FL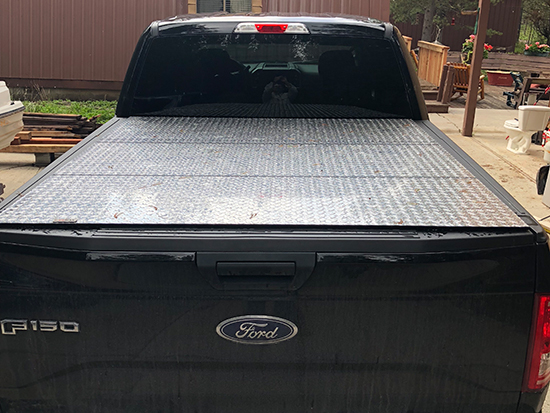 Absolutely love the style and functionality and simplicity of the LOMAX hard cover. It is low-profile, tough, and can be removed from the truck and stowed in less than a minute. The diamond-plate aluminum is a very unique look and makes the truck stand out from the rest of the ordinary black covers. Love it. Installed was a piece of cake - directions are simple. Highly recommend! ACI customer service was top-notched also: Due to some business transitioning on their part, and an upcoming road-trip on my part, ACI was unable to get the tonneau cover to me in time with the standard shipping. To make up for this, they swallowed the expense of 2-day shipping (which is not cheap) in order to meet mine and their requirements. Highly recommend.
Review by: Mark - MA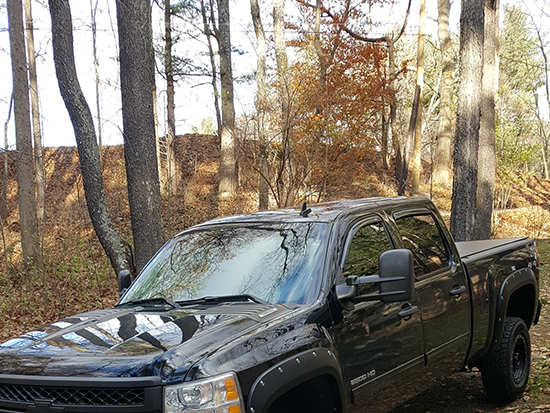 What an awesome product! This thing is so slick. Best looking tri-fold tonneau cover on the market, hands down!
Review by: Raymond S. - OK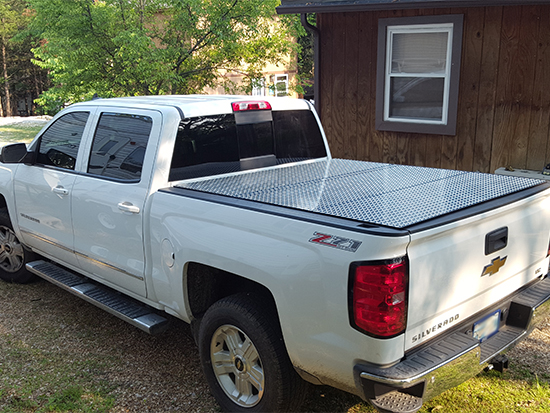 Package arrived quickly and in great shape. The parts were packaged well, so that all the parts were in perfect condition. Installation was relatively easy, although the clamps were a bit fiddly. Having a helper would have made the installation easier, but it wasn't too bad to do it by myself. The Lomax cover looks great and fits on my Chev. Silverado CC SB Z71 perfectly. It isn't perfectly water-tight against rain, but very close! I like being able to open close the tailgate without worrying about the position of the rear of the cover. I also like the ability to remove the tonneau cover completely with minimal effort.