SNOWSPORT™ Electric Plow Winch
SNOWSPORT™ Electric Plow Winch
Works with SNOWSPORT® HD and LT Utility Plows.
Feel the power, experience the performance! The SNOWSPORT™ Electric Plow Winch ensures your snow removal will be quick and efficient. Use the included in-cab switch to lower and raise the plow blade while remaining inside your comfortable, heated cab. Durable corrosion resistant construction, a heavy-duty synthetic cable and high output motor are exceeding all expectations. This electric winch maintains the innovative motion activated design of SNOWSPORT® HD and LT Utility Plows. It's time to have some up, down, all around fun with a SNOWSPORT™ Electric Plow Winch.

California Residents: Prop 65 Warning
Compatibility
Fits new and prior LT and HD models with a 4 bolt push frame and retains the exclusive motion activated design of the plow.
Reliable Motor
Easily lowers and raises blade. Worm gear creates an instant, positive lock to hold blade in place. Lightweight, compact and uses a 12V power source.
Easy On, Easy Off
Rapidly disconnect or connect power with quick connect plugs, retaining the plow's simple removal and attachment.
Corrosion Resistant Aluminum
Durable, yet lightweight construction with an easy to remove cover provides protection and safety.
Strong Synthetic Cable
Breaking strength of 7,700 lbs., easy to replace and secures to an included heavy-duty cleat.
Interior and Exterior Switch
Circuit breaker protected and waterproof with entirely epoxy potted switch box keeps the elements out.
12 feet of wire from relay to in-cab switch and 7 feet of wire from relay to plow.
Average Customer Rating:
(3 reviews)
Review by: Mark B. - MT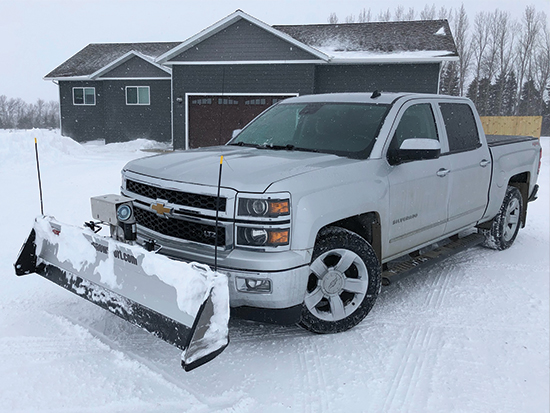 The electric plow winch took plowing snow from being fun to use to being an addiction. It takes an already versatile tool and makes it even better. Plowing is just that much easier to put the snow right where you want it. If you don't have one of these, you are missing out!
Review by: Samuel J.
I've had my SnowSport Plow for about 8 yrs. I just told a friend of mine last wk I was going to sell it this fall and buy a powered one. I have a bad back with rods & screws & lifting it up & down going just the few blks in the neighborhood caused too much pain. For years I've been searching to see if you guys have came up with a winch for them. I'd seen lots of DIY's. I just got your email saying you got a wench for them and you have no idea what a relief this is for me. Especially financially, but my plow is in good shape and I hated to get rid of it. Tx you guys very much.
Review by: Larry R. - MI
I live in northwest lower Michigan about 20 miles from Lake Michigan. It's pretty common to see 12 to 14 feet of snow every year, most of it from the lake. I've been using the SNOWSPORT HD plow for 7 years to clear 250 yards of gravel driveway winding through the woods and it always performed like a champ. This year, I got an e-mail from ACI advertising their new winch. I saw potential and took a chance and purchased one. After 3 times plowing with it I can say it was a smart move on my part. Their are at least a few dozen times when I'm plowing where it's better to lift the blade then let it roll out of the way when backing up. I can do that with just a push of a toggle switch from inside the cab! This simple set-up can easily keep up with the hydraulic steel blade plows on driveways, small parking lots, etc. for less than half the price and no modifications needed on your vehicle suspension. I'm never trading mine for something else.