TONNOSPORT® Roll-Up Cover
TONNOSPORT® Roll-Up Cover
From:
$419.00
$356.15
- 15% Off
The TONNOSPORT® Roll-Up Cover gives you a sleek, low-profile look at a great low price. When closed, this near flush mount tonneau cover sits a mere 1/2" above the truck box - virtually disappearing before your eyes from the side or rear profiles. The cover is lockable and rolls up out of the way for easy access to the truck bed. There is no need for removal when hauling larger items in the truck bed. This low profile tonneau cover gives your truck a smooth, streamlined look while providing you with gas mileage savings and protection for your cargo. The TONNOSPORT® Roll-Up Cover fits your lifestyle, your truck and your budget!

California Residents: Prop 65 Warning
LATCHING SYSTEM
The Trigger Latch allows for one finger release to open and automatically locks when the tonneau cover is closed.
PATENTED SLIDE LOCKS
Two patented Slide Locks offer additional locked protection for the cover. Push to lock, pull to unlock. Works with a locking tailgate to give you ultimate security.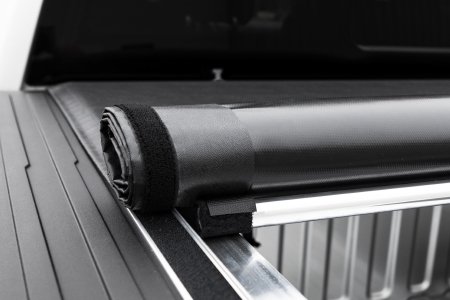 RELIABLE HOOK AND LOOP SYSTEM
Easy one person operation, a high strength seal runs down the entire length of pickup bed.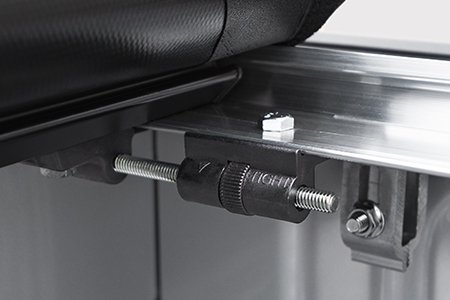 EZ-DIAL™ TENSION ADJUSTERS
The EZ-DIAL™ Tension Adjuster sets cover tension with the turn of a dial, no tools required.
SEALS ON ALL FOUR SIDES
Front and rear built-in vinyl seals and airtight foam gasket between the roll up cover rails and pickup bed.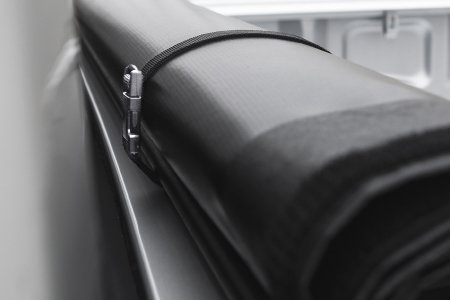 QUICK CLIP™ STORAGE STRAPS
One QUICK CLIP™ storage strap secures your tonneau cover behind the cab. Durable nylon strap with a strong buckle.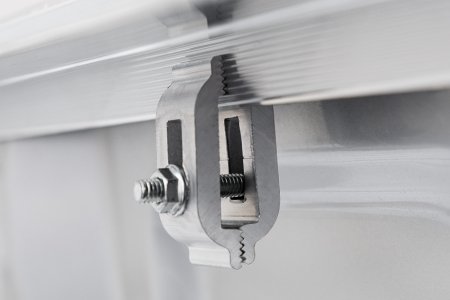 TIGHT BITE™ CLAMPS
Attaches cover to bed without the need to drill into bed. Specifically cut "teeth" maintain a superior grip and exceptional strength.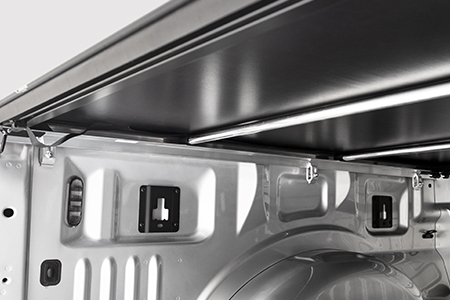 HARDWARE
The TONNOSPORT® Roll-Up Covers feature aluminum bows and rails with black bars.
Average Customer Rating:
(6 reviews)