ROCTECTION™ Hitch Mounted Mud Flaps
ROCTECTION™ Hitch Mounted Mud Flaps
Price:
$361.00
$306.85
- 15% Off
Universal, Fit Most Full-Size Pickups and SUVs (80in frame)(includes 4, 12in W x 24in L rubber strips)
ROCTECTION™ Hitch Mounted Mud Flaps offer flexibility to personalize your style and desired level of towing protection by using customizable three eighths inch reinforced rubber on a rustproof aluminum frame with zinc plated hardware. These universal hitch mounted mud flaps are designed to fit pickup trucks and SUVs with center bumper steps and feature a large built-in stabilizer plate to prevent rocking. The universal ROCTECTION™ Hitch Mounted Mud Flaps easily install to the ball mount with an adjustable clamping system. Simply pull the receiver pin to remove.

California Residents: Prop 65 Warning
LARGE BUILT-IN STABILIZER PLATE
Keeps the frame level and prevents rocking.
THREE EIGHTHS INCH COMPOSITE RUBBER
Remains flexible at -40° F and rated to resist heat up to 200° F. The lightly textured yet smooth rubber surface minimizes ice and mud build-up.Extra long mud flaps with 24 in. of trimmable height for pickups with suspension modifications or oversized tires.
EASY TO ASSEMBLE, REMOVE, AND RE-INSTALL
ROCTECTION™ installs to the ball mount with an adjustable clamping system. Simply pull receiver pin to remove.
REVERSIBLE TRIM PLATES
Maximize rigidity and aesthetics. Select clear coated aluminum or textured matte black by simply turning plate over.
Average Customer Rating:
(2 reviews)
Review by: Jack M.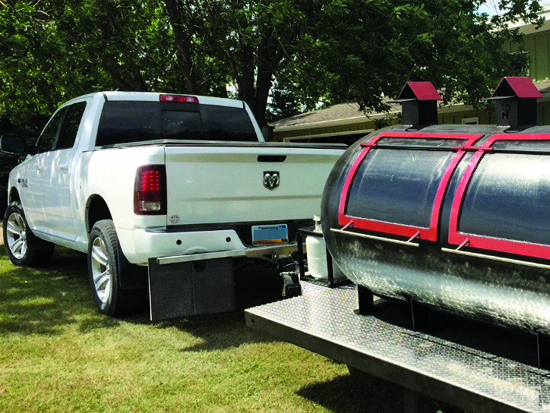 I put a lot of work into building and painting my new smoker grill and wanted to protect it from rock chips. The assembly and install of my new Roctection mud flaps was straight forward, no problems. Now that I've been using them I've found that not only do they protect from chips but I have a lot less grill clean-up when I get to an event. It's not always how good you are, sometimes it's how good you look doing it.