ADARAC™ Aluminum Pro Series
ADARAC™ Aluminum Pro Series
From:
$616.00
$523.60
- 15% Off
Works with LOMAX® Folding Hard Covers, ACCESS® Roll-Up Covers and most inside the rail tonneau covers.
Elevate your everyday, the ADARAC™ Aluminum Pro Series will carry your next adventure with ease. Constructed with lightweight, corrosion resistant aluminum, our heavy duty truck bed racks were designed to carry heavy loads with ease. Increased carrying capacity with limited framework interference, the aluminum truck rack features fully removable and adjustable vertical uprights. Model specific ADARAC™ Aluminum Pro Series has a simple, no drill install with stake pocket inserts. Truck accessories can be easily attached to secure payload with mounting channels incorporated in the rails and cross bars. This truck bed rack system is engineered tougher, lasts longer and performs better.

California Residents: Prop 65 Warning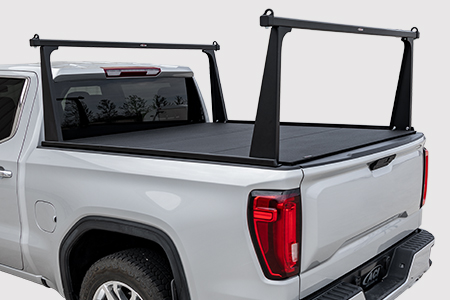 Rust Resistant Framework
Height above the box rail: 24 in. for mid-size, 26 in. for full size and 20-ON Jeep Gladiator 5' box and 27 in. for Super Duty and 20-ON GM HD 6' 8" trucks. Load dividers sit an additional 3 in. above cross bars.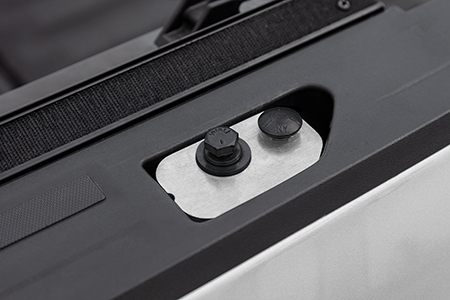 Easy Installation
Aluminum stake pocket inserts, no drilling needed.
Trucks without stake pockets require drilling.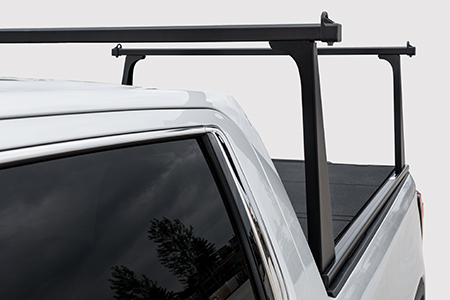 Vertical Uprights
Limited framework interference for maximum payload capacity. Simple to remove or reposition.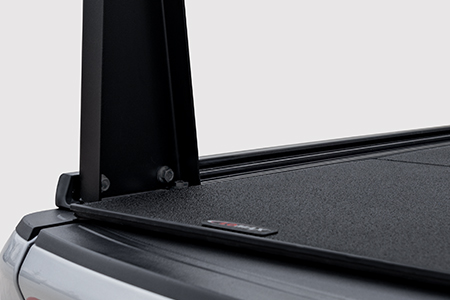 Utility Rails
Conveniently attach accessories and secure gear with integrated mounting channels, use with or without uprights.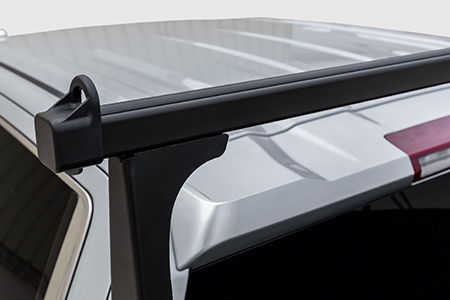 Multi-Functional Cross Bars
Easily attach accessories and secure cargo using integrated mounting channels across the top and bottom. Anti-slip, anti-vibration rubber helps stabilize cargo.
Cross bars are 72 in. L x 1-1/2 in. W x 1-1/2 in. H. and 66 in. L for mid-size trucks.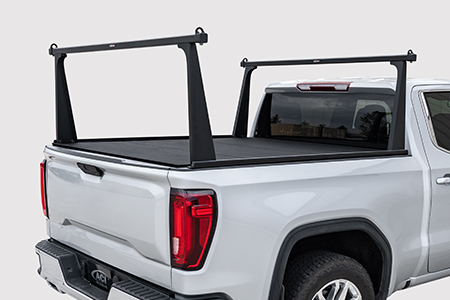 Cover Compatibility
Works with LOMAX™ Folding Hard Covers, ACCESS® Roll-Up Covers and most inside the rail tonneau covers.
Tonneau cover not included.
Average Customer Rating:
(102 reviews)
Review by: Aric F. - WI
Great product, great customer service. Exactly what I was looking for. Doesn't interfere with my Bakflip and great for my kayaks.
Review by: Tim P. - PA
I utilized this rack system to haul a Yakima cargo carrier, Yakima bike rack, and Yakima kayak racks.The kayak racks would not fit on the crossbars, so a modification was made to the crossbars using anchors. The extra load made the truck alittle too heavy but worked.
Review by: Jeffery M. - MI
Purchased parts for my ADARACAluminum Pro series..they were Awesome!Got all the parts as ordered and they came quickly...Thank YouJeff
Review by: Kyle P. - WI
Absolutely as advertised. Works great.
Review by: Ross C. - MD
I have purchased a few products from Agri Cover and they have all been perfect for my needs. This one is no different. The rack is strong, durable and the matte black finish makes it look amazing. The fit is perfect for my truck and the installation is very simple. Highly recommend.
Review by: John H. - IN
Awesome Truck Rack, I use these to Haul my Yaks.. I can Remove the Uprites Easy Peazy when not Needed with only the Bed Rails staying on, Such A Great Set-up..
Review by: Paul V. - CO
Your support team was great about answering my questions and took the time to review pictures of my truck. The rack has been awesome. Super easy to install, fits over my bacflip bed cover.
Review by: Michael D. - TX
Great product that's easy to install. Fit & finish are very good. The only thing I didn't like was the plastic end caps, with tie down loops, that cap the rail ends. I think these should be metal and more secure as a tie point. It's a minor detail and I just don't use them. The slotted rails make it easy to add tie points to, which I did easily with stainless steel u-clamps slid into the channel.
Review by: Sam - NC
I purchased this rack to move kayaks and have been extremely happy with it. Installation was easy and the racks are well made and durable
Review by: Jeff M. - CO
We use it to haul our two kayaks. Fits great on our 2019 Ram 1500 short bed crew cab with our existing Undercover Armor Flex folding bed cover. Assembly & installation was very easy. The only slightly complicated part was cutting out the stake pocket openings to use the rack.
Review by: Mary J. - MI
We needed a few end caps for our Adarac after an off road trip through heavy brush. We also found a great deal on a front light mount. The ordering was easy and the shipping was fast. We love our ADARAC and dealing with AGRI-COVER is easy.
Review by: Kenneth E. - NM
Great looking when installed. Blends well with pain scheme. When you look at the truck that is not the first thing you notice. Very easy to install. A couple of adjustments and my tonneau cover opens with plenty of clearance. I bought it to carry Kayaks and have not used it for that yet. So, having said that I am going to give you a 4 star rating until i use it.
Review by: Ken D. - MI
The Aluminum Pro Series Ladder rack is exactly what I was looking for. I needed a rack that was compatible with my folding tonneau and it works perfectly. Very pleased with the price and the quality. This is a well engineered product at a great price.
Review by: John
Just installed the Pro Adarac. Simple install, it took about half hour with reading instructions and all. I know guys don't read instructions. I use a rack in my construction work. The pickup rack has a rubber surface on the top of the cross bars that should prevent slipping and scratching of my cargo. The cool thing is, you can move the load supports anywhere along the side rails. This will be handy for shorter objects. I use my truck for personal as well, so I can see a lot of possibilities. It looks good too. If you don't hear from me again, consider me satisfied.
Review by: Gary O. - MN
I bought this for hauling my kayaks On my truck when pulling my camper. This is a high quality build kit. Not like the China junk. Fit of parts is tight. The finish of the black rack looks great next to my white and black truck. Every bolt and part was included and easy to install with a few tools.
Review by: Dave E. - FL
This is an excellent high quality rack. Fit was perfect for my F-150. I had order some additional parts and customer service was great.
Review by: Joe L. - PA
This is an awesome rack. Very well made and very easy to install. Put mine on in about 45 minutes. Everything fit perfectly. Very strong and stable.
Review by: John B. - OH
Very impressed with the quality, ease of installation and strength of rack. Use for kayaks and ladders for my work. Will definitely get for future trucks. I highly recommend this product. Extremely happy with my purchase. Looks great also.
Review by: Jerry F. - WA
I love the rack. This is a well mad rack which looks very nice on my 2017 silver F-150. The assembly instructions are very good, and everything went together smoothly. I'm very pleased with this rack.
Review by: Sam T. - CO
It is fantastic. Very versatile and customizable thanks to tracks. Fits on my access bed over perfectly. Great set up! I've even got my 200lb 4 person rooftop tent attached (with an extra cross bar put into the tracks for 3 total)
Review by: Richard M. - NV
Easy installation, light but is strong enough for kayaks etc.
Review by: Laverne P. - BC
Simply put - excellent. I have sold and installed several now. Including one today on a Nissan Frontier 6 ft. with a Bak Revolver X2 tonneau cover. A great product that i will be selling a lot more of. Thank you, Laverne.
Review by: Darren Y. - AB
I just got this rack for my 2014 Tundra. I have a back flip tri fold tonneau cover. This rack fits and works perfectly. The instructions were super easy. Took me a buddy less than an hour to install. (could have been quicker if it wasn't for the beer breaks). The aluminum hound hold up great in our Alberta winters. Thanks for such a well made product! Can't wait to get the canoe on it.
Review by: Laverne P. - BC
I installed two more racks this week with two more waiting to be done. Great design,only question to ask is what took so long before they came on the market. Thanks again, Laverne.
Review by: Larry S. - VA
Rack looks great! Works well with my gator roll-up cover! Handled 2 large kayaks on the rack and 2 smaller ones on the cover, while pulling camper. I did purchase some extra tie down hooks for this purpose. Easy install. However if you are installing on newer Silverado then you will need to remove tail lights in order to attach the bolts. Not a big deal, but wasn't noted prior to purchase.
Review by: Mike B. - ON
This rack is awesome, and works perfectly fine with my Armor Flex hard cover! Easy to put together, and take down when not needed! I use it to hold the kayaks high above the bed so I can still use the bed for all our camping gear. My only negative is to get black, you pay extra - but all the hardware is still not black
Review by: M - TN
Great rack, well made very simple install.
Review by: Dave R. - CA
Qualty construction and easy to assemble. Maybe it was just me, but I thought the assembly instructions made it seem more difficult than it actually was.
Review by: Ward P. - VA
I have literally been looking for this rack for 10 years. I highly recommend it. The price was right, quality construction, looks great. This is to only rack that I could find the would work with my BakFlip tonneau cover and it fits my truck perfectly.
Review by: Chris H. - MN
Works great with my tonneau cover!
Review by: Jay I. - WI
Love the fit and finish. Works great and love how easy it is to reposition or remove the uprights. Just what I was looking for.
Review by: Adam A. - MI
Purchased the black aluminum pro with cleats and tiedown accessories for a 2016 Silverado 1500 with a Bakflip MX4 cover already in place. Rack is fully compatible with the quad fold hard cover and everything fits together nicely. The square T-track crossbars are compatible with Thule Kayak cradles (DockGrip 895) which I didn't see mentioned anywhere online. Shipping was very quick. The uprights were individually wrapped to prevent scratches, however the bed rails were not wrapped and had a disappointing number of scratches and blemishes in the powder coat. Definitely not a deal breaker and maybe unnoticeable unless you were inspecting it up close, but certainly not expected after paying a premium for the black powder coat finish. Just an FYI, not mentioned online but mentioned in the installation manual, the rear uprights are unable to be slid all the way forward to sit next to the front uprights by the cab without tedious adjustment of the crossbar due to the Silverado 1500 having a bed width that tapers outward by a couple inches from front to rear. Installation was quick and easy, just be careful popping the rear taillights out (can be YouTubed) a task specific to installation on Silverado 1500s I believe.
Review by: Jim W. - MS
Great product. Easy to install. Only issue- 1 of the bed railings is bent a little. There is a small .25 inch gap between the railing and truck.
Review by: Sam - CT
Excellent rack. Very happy with purchase. Only thing it needs is adjustable load stops.
Review by: Warren R. - PA
Great product! Stronger than estimated by pictures.
Review by: David G. - WA
This is the second rack that I bought. It works great with my roll up tonneau cover. Very easy to adjust or remove rack based on hauling/tie down needs.
Review by: Timothy T. - WI
Great product. Easy to install. They sent me the wrong parts. However they sent me the correct parts no questions asked the next day.
Review by: Paul C. - NB
I just installed rack on a 2020 Chev Siverado RST. It was easy to install (tailight removal required to anchor support rail at back). I have an Undercover Armorflex tonneau, the rubber seal for tonneau rests on rack rails but seems to seal well. Racks must be installed close to front and back of box to allow for opening and closing of tonneau. For carrying kayaks and SUP this will work out fine.
Review by: Don H. - OH
Very well thought out design for a rack that was easily assembled. This rack should meet my needs for some time to come!
Review by: Mike L. - ID
Love the rack. Everything I expected, But they keep Emailing me about my bed cover purchase, which I didn't make. No complaints Though.
Review by: Rick G. - TX
Great product, installed quickly on 2020 GMC 2500HD. I would like to see hardware in Stainless or offer a Stainless option.
Review by: Benjamin B. - FL
Awesome Rack! The fit and finish is impeccable. I love that you can open the tri fold style cover while the rack is installed. My only complaint is that I wish there was a quick release for the uprights, instead of having to remove 8 bolts every time you want take the upper part of the rack off. 100% would buy again!
Review by: David C. - MI
We just got rack installed, with a a tonneau cover. Haven't tried it out yet. We got it for our kayaks.In the installation instructions said/ showed the cross bars should not be bowed down in the middle. They won't go on any other way.It didn't come with lock washers, so we used blue loc-tight on every bolt/ nut. It looks really nice, my Wife is happy with it, it's her truck. We'll see how they work when we camping.
Review by: Roger H. - IA
Great product! Easy installation... followed instructions. Super solid... nice finish. Very pleased.
Review by: Andrew J. - CO
Was looking for a rack that I could use with my existing soft tonneau cover on 2018 F150. The aluminum pro series met my requirements perfectly. It was easy to install (90 minutes), is sturdy, and looks great (I have the matt black with a black truck).
Review by: Mike W. - NY
Like it so far. One recommendation would be to include a black oxide (?) bolts. I think it would match better.
Review by: Don G. - FL
Very easy to install. I put most of it together on my kitchen counter, where I kept cool. Installation on the truck took 35 minutes. Only thing missing in the instructions was the orientation of the upright brackets. Two left, and two right. Flat side inward or outward? I had to go on the website to look at a picture of an installed rack to verify the orientation. LOVE it. My Kayaks now fit in my truck with all our camping gear!
Review by: Al Z. - NJ
Excellent truck rack! I needed a rack to transport ladders, canoes and aluminum tubes/rods. I did have another rack but when I installed a MX4 BakFlip tonneau cover, the old rack (which fit inside the bed rails) would no longer work. I kept the front rack which is mounted on the roof of the truck and installed the Adarac aluminum pro series uprights on the back. The Adarac system works perfectly with the MX4BakFlip tonneau cover. The Adarac aluminum pro series rack looks great, and I was surprised how sturdy it is.
Review by: Bill W. - VA
Great rack and clearly well made and ease of installation was a breeze. Bought it to haul my kayaks and works great. Love the heavy rubber strip on top of rails that really hold the kayaks in place. Had to buy the cargo loops since I had to remove the ones I had previously installed. Wish the rack had come with those to begin with.
Review by: Ernest F. - ME
Amazing customer service! Ordered racks to go with our tri - fold tonneau cover. We also liked these racks because they require no drilling or clamping to the truck bed. It a new truck and I didn't want to put holes in it. Shipping said allow three weeks and it arrives in 1! Some damage happened during shipping so we emailed them and they got back to us within the hour. They shipped new parts quickly and with no additional cost to us. We have had a great experience with them.
Review by: Dennis H. - AZ
I bought the Adarac Pro for my 2019 chevy 2500. It was ez to install and works great for hauling my two kayaks.
Review by: Fred M. - FL
Excellent product, easy install! I have loaded 2 35 inch wide kayaks side by side and driven over 400 miles. No issues at all , just compliments. I would highly recommend this rack for any pick-up truck with a Tournau bed cover.
Review by: Michael P. - TX
Outstanding!
Review by: Walter L. - NV
PERFECT!!! However, I ordered one of your products thru Summit Racing, they totally messed it up and ACI was able to help me get it straighten it out.
Review by: Brian N. - ON
This product is incredibly sleek, installation could not have been easier.Not only is the rack system the perfect solution for carrying kayaks but the rails allow me to utilize the top of my hard cover.Amazing product and customer service is 5 star.
Review by: Sherman S. - OR
Well built, easy to install, works with my tonneau cover.
Review by: Jeffrey S. - CA
Love this rack. Purchased it to carry kayaks and keep the folding tonneau cover on. Works exceptionally well and is quite sturdy. Would definitely purchase again.
Review by: Dan D. - PA
Got this a few weeks ago. Absolutely awesome! Works with my hard folding tonneau perfectly. Had 5 whitewater kayaks on top with dry camp gear in the bed. All while maintaining my visibility in the rear view mirror.
Review by: Tom B. - BC
Great product use it all the time to carry kayaks and still able to use the back flip tonneau cover.
Review by: Jordan B. - ON
Really happy with my Aluminum Pro Series rack. Was easy to install and looks great. Fits my canoe and SUP side by side no problem.Customer Service was really fact when I had a question during install.
Review by: Raymond M. - MI
Simple and solid build. Easy to adjust. Love that it enables me to open my trifold bed cover on my 2018 Tacoma. I would highly recommend.
Review by: Michael H. - VA
Absolutely love this thing. Nice and sturdy so I can feel reassured my fishing rod rack isn't going anywhere.
Review by: Richard T. - KY
I am very happy with this product.
Review by: Josh A. - OR
I've had them for about a half a year, using them weekly and they still look great. The black coating is high quality and I am a happy customer!
Review by: Charles M. - WA
Instructions were the worst. Youtube vs given installation instructions were no where close.Once installed super happy
Review by: Cameron D. - CA
Easy to install. Fits great.
Review by: Brad F. - OK
The rack is sturdy, and installation was relatively simple. I got this rack to haul my kayak and fishing rods and so far it performs as expected. I bought this with the hope that I could remove one bolt when it was not in use and fold it down or remove it entirely. While it is easily removed, that process requires the use of a 9/16 socket, and realigning it when it's reinstalled can be a bit frustrating. I've solved that issue by installing 2 steel plates with welded bolts and wingnuts to the rail along the side of the truck. I can easily install or remove the uprights by removing the wingnuts. This has cut my setup time in half. All in all it is a great product for those that don't want to put holes in their bed and use a tonneau cover.
Review by: Jeff E. - OH
Bought the Aluminum Pro Series rack about a year ago and loved it. Looks great on the truck. About a month ago while driving down a narrow street one of the crossbars got hooked on a very low tree limb. The front upright tore out of the bed rail and bent it as well. The rest of the rack survived without damage. Curt helped me order the replacement parts I needed. Excellent customer service and my truck looking awesome again.
Review by: Merv C. - CA
I installed the truck racks myself and it was very straightforward. Rack works great with my fold back cover on the bed. Can't wait to use it this summer with my kayaksThank youMerv
Review by: Christopher C. - CA
Awesome product! Well designed, great looking addition to my truck's functionality. Works perfectly with my BAKflip MX4 tonneau cover.
Review by: Davd B. - KS
Well made, works great with my Lomax folding bed cover . The rail mounting system is far superior to racks I have owned in the past. Came safely packaged , the black finish was scuffed on the side rails a bit, uprights were perfect. A very good price!
Review by: James J. - TX
Well built, easy to install. Get the load stop brackets. I like it is quick and easy to remove when you dont need it, and it does not interfere with trip fold tonneau.
Review by: Keith G. - MI
Worked great as promised.
Review by: Rex A. - VA
Received the rack and it was damaged, i contacted customer service and the replacement parts were shipped the same day. Parts arrived and rack was installed. I previously had a Lomax hard cover and the rack fits perfect with the cover. Very pleased with the products. I dont have any photos yet will send them later
Review by: Tom F. - WI
Overall quality was very good, but a couple of items kept me from rating it 5 star. 1) clearance over truck cab seems excessive about 5 inches makes loading items unnecessarily high. 2) plastic end caps with loop. Loops are just asking for someone to think that they can secure their load with these. Emergency stop at freeway speed. Highly doubtful that would be enough to stop load from launching off rack.
Review by: Joseph A. - TX
Fantastic product! Installation was a breeze. Thought I would have had to make some minor modifications due to my Soft-Topper cover but once everything was up and lined up! No modifications needed!
Review by: John R. - FL
Great product, well made, easy to install. Don't need to say anything else!! Love it.
Review by: Ryan S. - OH
Loving it so far. Easy install. Wish it came with one more spacer plate to accommodate plastic bed side caps but over all great product!!
Review by: Mike L. - CA
I'm very pleased with this rack. My son has a different Adarack on his pickup and I bought mine because I was impressed with the build quality of his. I have used mine a couple times already and it has performed flawlessly and I have little doubt it would hold much more weight than I've put on it to date. If needed, I can easily move one of the bars in about 10 minutes with only a ratchet and 9/16 socket (or I can easily remove them completely in about the same time). Because these don't follow the cab contour like my son's model, they do make a bit of wind noise at highway speed but that's to be expected and I like my rock-n-roll so I just turn the radio up.AGI'S customer service has been top-shelf. If you email or call you will get an English speaking human on the other end to answer your questions or concern. I haven't had any problems but I did have questions pre-purchase that were professionally answered. I've also added a few extra weldnuts to the tracks of my rack so I can put eye bolts in them for light duty tie-down points. The rep answered my email with the proper part number and sent me a link to a full parts list which gives me the piece of mind that I can get replacement components should I ever need any down the road (unlike the company that made my truck steps who wants me to buy a 170 dollar install kit to get one bracket I damaged). A+ all the way around guys! Keep up the good work!
Review by: Jay L. - FL
The produce is fantastic and the service was excellent from the beginning, the ordering process to delivery. I actually, I had a question prior to placing order, called the support line, and received prompt and courteous support.
Review by: Kason H. - NC
Great product, great price, and easy to install.
Review by: Tim T. - WA
5 stars for the product. 4 stars for the responsive customer service to correct the wrong parts being shipped 2X. 2 stars for not getting the correct parts shipped the first time.
Review by: Oscar Q. - GA
Great product
Review by: Travis W. - PA
Ordering process was quick and easy. The pictures were misleading as everyone showed the rack with a truck bed cover but that was not included.
Review by: Bruce - CA
Easy to install, and looks better than any other rack I've seen
Review by: Mike R. - PA
Purchased racks for hauling of kayaks. They Work great. Easy installation, just follow the instructions. Can easily adjust postion of racks on bed. Also easliy remove racks for winter, little too cold for kayaking. Highly recommend this style goe great with tri-fold tonnaue covers. Quick delivery.
Review by: Richard D. - IL
Easy install, good looking, and just what I wanted.
Review by: Gary S. - CO
I am really liking this set up. I would like to comment about one issue (it is an easy work around, if you are mechanically inclined). The directions need to be reprinted for the Pro Series for the 1500 GM 1500's. Not clear or concise. Other than that, fantastic product. The silver finish matches my truck nicely.
Review by: Ryan C. - MD
Very robust rack. No problems with using to haul our kayaks. Also purchased the side mount rails for accessories and it is also very heavy duty. We'll worth the price.
Review by: Frank V. - MD
Very nice pickup rack that will fit 2022 Tacoma Short bed with a Bak Flip MX4 already installed. Can use both the cover and racks at the same time. Care should be noted on installation that the bolts are tightened to 85 INCH POUNDS not FOOT POUNDS. Black bolts would be good instead of shiny metal.
Review by: Christos K. - BC
I bought some replacement parts for my rack. I found the descriptions a little difficult to read on the website, particularly regarding the quantity of items. I ended up ordering more than I needed, which is OK because it was a low cost item. Suggest being more direct about what is included within a specific item, or making it more easily visible.
Review by: Chris F. - MO
Love the product looks great seems sturdy install is fairly easy. The product itself is a five stars. Very sturdy can't wait to use it with the kayaks I just bought. Works well with my Under Cover UltraFlex hard tonneau cover. My frustration though is the hardware. Half the nuts in the hardware kit were a size too small. Kind of frustrating to spend the time to run to Home Depot and spend extra money for hardware. For that I gave 4 stars.
Review by: Chris W. - NC
Great. Light weight, easy to install, looks good, is very functional to carry my kayak. Delivery was as promised, expedient and complete. Instructions were excellent.
Review by: Curtis C. - WI
I love it. Went together easily, is perfect for my canoe. Glad I found this and didn't spend twice as much on something else.
Review by: Phil S. - FL
The ADARAC Aluminum Pro Rack is a good sturdy product. I like that is it easily removed. It was delivered on time with updates. The written & video instructions are very thorough. What more can you ask for!