ADARAC™ Aluminum Pro Series
ADARAC™ Aluminum Pro Series
From:
$633.00
$538.05
- 15% Off
Works with LOMAX® Folding Hard Covers, ACCESS® Roll-Up Covers and most inside the rail tonneau covers.
Elevate your everyday, the ADARAC™ Aluminum Pro Series will carry your next adventure with ease. Constructed with lightweight, corrosion resistant aluminum, our heavy duty truck bed racks were designed to carry heavy loads with ease. Increased carrying capacity with limited framework interference, the aluminum truck rack features fully removable and adjustable vertical uprights. Model specific ADARAC™ Aluminum Pro Series has a simple, no drill install with stake pocket inserts. Truck accessories can be easily attached to secure payload with mounting channels incorporated in the rails and cross bars. This truck bed rack system is engineered tougher, lasts longer and performs better.

California Residents: Prop 65 Warning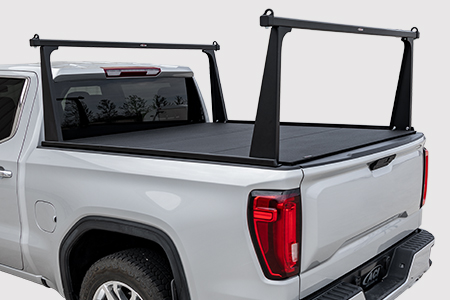 Rust Resistant Framework
Height above the box rail: 24 in. for mid-size, 26 in. for full size and 20-ON Jeep Gladiator 5' box and 27 in. for Super Duty and 20-ON GM HD 6' 8" trucks. Load dividers sit an additional 3 in. above cross bars.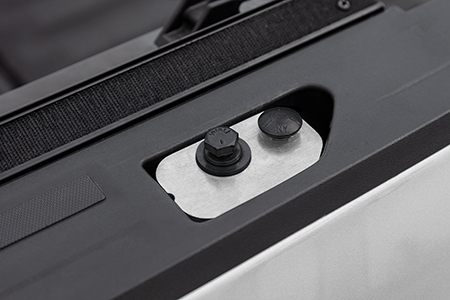 Easy Installation
Aluminum stake pocket inserts, no drilling needed.
Trucks without stake pockets require drilling.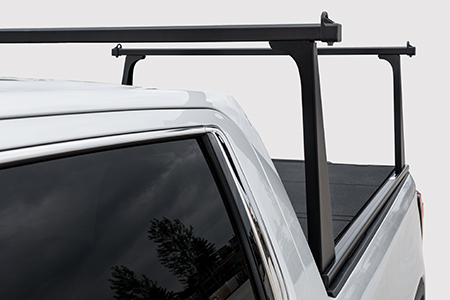 Vertical Uprights
Limited framework interference for maximum payload capacity. Simple to remove or reposition.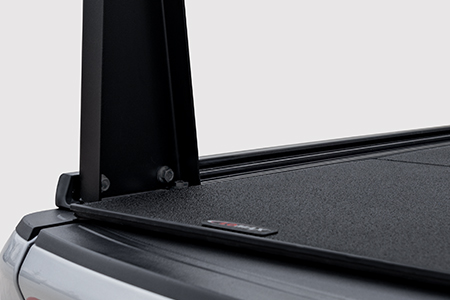 Utility Rails
Conveniently attach accessories and secure gear with integrated mounting channels, use with or without uprights.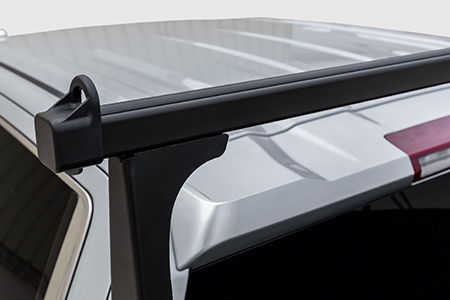 Multi-Functional Cross Bars
Easily attach accessories and secure cargo using integrated mounting channels across the top and bottom. Anti-slip, anti-vibration rubber helps stabilize cargo.
Cross bars are 72 in. L x 1-1/2 in. W x 1-1/2 in. H. and 66 in. L for mid-size trucks.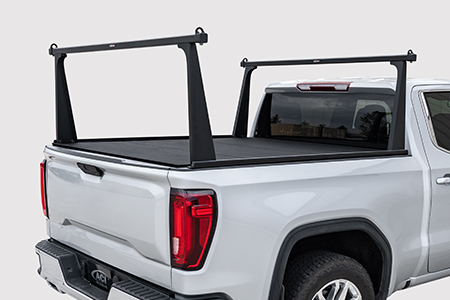 Cover Compatibility
Works with LOMAX™ Folding Hard Covers, ACCESS® Roll-Up Covers and most inside the rail tonneau covers.
Tonneau cover not included.
Average Customer Rating:
(7 reviews)
Review by: John
Just installed the Pro Adarac. Simple install, it took about half hour with reading instructions and all. I know guys don't read instructions. I use a truck bed rack in my construction work. The rack system has a rubber surface on the top of the cross bars that should prevent slipping and scratching of my cargo. The cool thing is, you can move the load supports anywhere along the side rails. This will be handy for shorter objects. I use my pickup for personal as well, so I can see a lot of possibilities. It looks good too. If you don't hear from me again, consider me satisfied.
Review by: Jerry F. - WA
I love the rack. This is a well mad rack which looks very nice on my 2017 silver F-150. The assembly instructions are very good, and everything went together smoothly. I'm very pleased with this rack.
Review by: Darren Y.
I just got this rack for my 2014 Tundra. I have a back flip tri fold tonneau cover. This rack fits and works perfectly. The instructions were super easy. Took me a buddy less than an hour to install. (could have been quicker if it wasn't for the beer breaks). The aluminum hound hold up great in our Alberta winters. Thanks for such a well made product! Can't wait to get the canoe on it.
Review by: Al A. - OH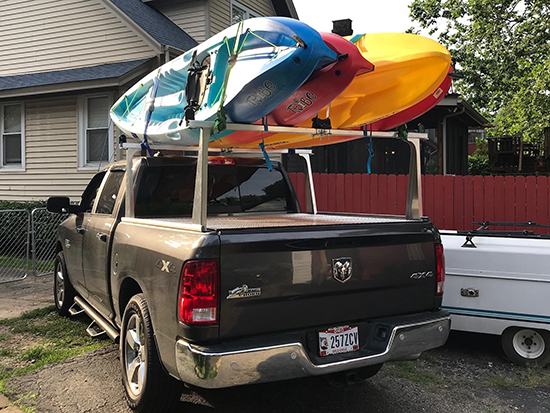 Bought the professional series Adarac and Lomax cover and would love to give it a review for you. Wife and I installed them on our 2016 Ram and are extremely pleased with our choice. This is our play truck to to take camping and hauling our kayaks. We've gotten 5 kayaks up on it and could maybe squeeze on a 6th. The Lomax is watertight, nothing has penetrated.
Review by: M G.- TN
Great rack, well made very simple install.
Review by: John B. - OH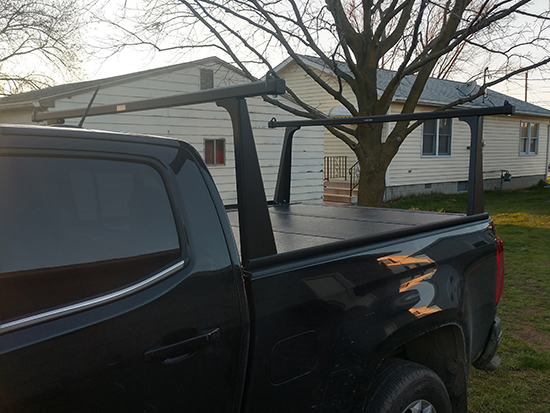 Very impressed with the quality, ease of installation and strength of rack. Use for kayaks and ladders for my work. Will definitely get for future trucks. I highly recommend this product. Extremely happy with my purchase. Looks great also.
Review by: Mark D. - NY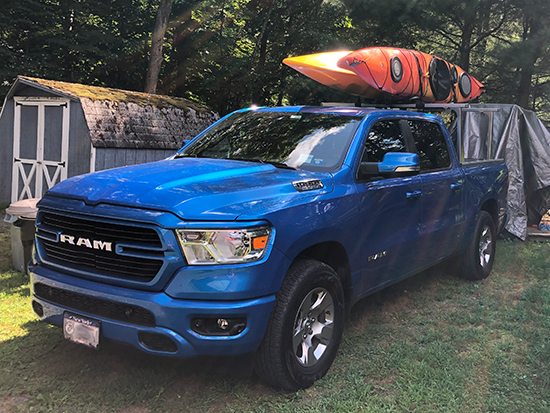 I transitioned from a Ford to a RAM and wanted to use the same rack system. I was able to purchase the proper stake-pocket mount rail system. Minor issue, anchors for the front stake pocket required a modification to fit the RAM. (I had to knock off 3/8" on one long side to each front anchor to fit properly.) Product support was caught unaware. Otherwise, It works perfectly and couldn't be happier.