ADARAC™ Aluminum Series & Roll-Up Cover Combo
ADARAC™ Aluminum Series & Roll-Up Cover Combo
Please allow 3 weeks for your order to ship.
You cannot beat this pair! The ACCESS® Roll-Up Cover and ADARAC™ Aluminum Series add diverse cargo hauling options to your truck. Offering all-season protection for your gear, these tonneau covers sit 1/2 in. to 1-1/2 in. above the truck bed, increasing storage space for items needing to stay out of the weather. The heavy duty, aluminum truck bed rack can hold up to 500 lbs. evenly distributed, allowing for greater cargo capacity above your tonneau cover. Gain a cargo management system to stand above the rest with an ACCESS® Roll-Up Cover and ADARAC™ Aluminum Series.
Features of the ADARAC™ Aluminum Series Truck Rack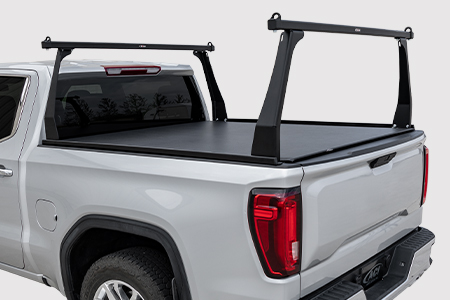 Rust Resistant Framework
Extruded anodized aluminum rails and cross bars along with aluminum uprights carry a maximum of 500 lbs., evenly distributed.
Height above the box rail: 23 in. for mid-size, 25 in. for full size and 20-ON Jeep Gladiator 5' box and 27 in. for Super Duty trucks. Load dividers sit an additional 3 in. above cross bars.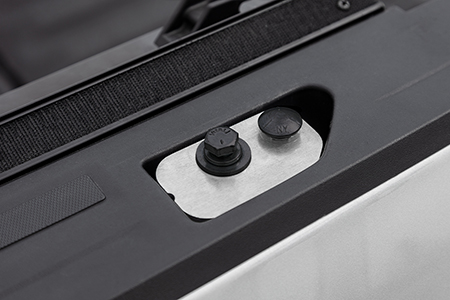 Easy Installation
No drilling required, attach using aluminum stake pocket inserts.
Trucks without stake pockets require drilling.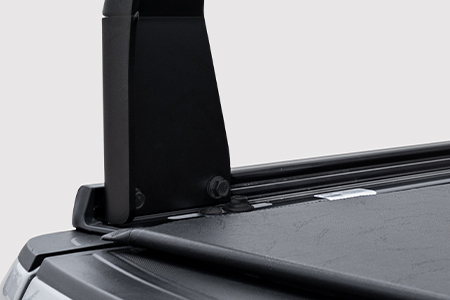 Utility Rails
Use with or without uprights. Attaching accessories or securing gear to built-in mounting channels is hassle free.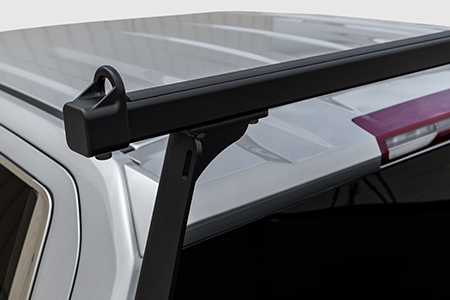 1-1/2 inch Cross Bars
Accessories quickly attach to integrated mounting channels across top and bottom. The anti-slip, anti-vibration rubber channel inserts stabilize and secure cargo.
Features of the ACCESS® Roll-Up Cover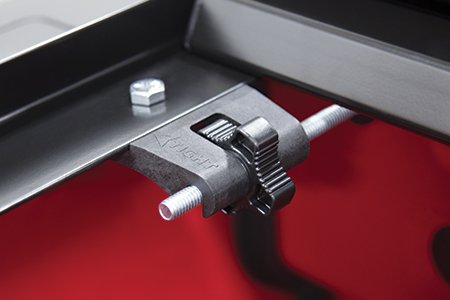 XT-DIAL™ Tension Adjusters
Fine tune the tonneau cover by an easy to turn tension control dial. No tools - No hassle.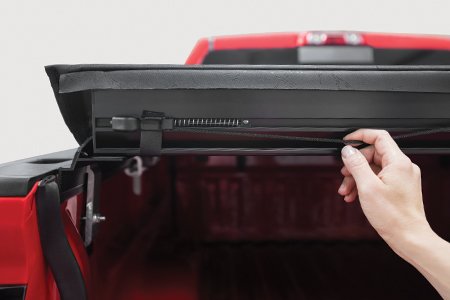 Patented AUTOLATCH™ II Dual Locking System
Release both locks at once by pulling on cord from either side. Durable nylon latches provide solid positive latch engagement.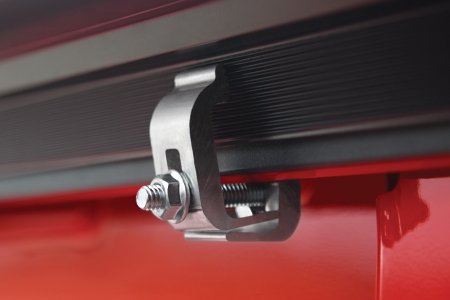 TIGHT BITE™ Clamps
Easily install in minutes, no drilling required. Precisely cut "teeth" offer remarkable strength and maintain outstanding grip.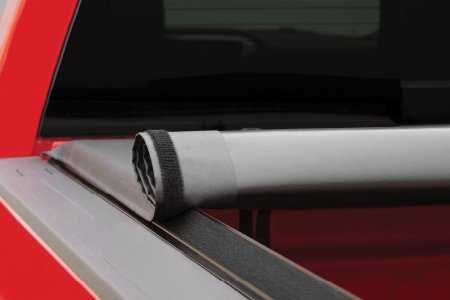 Reliable Hook and Loop System
Dependable seal runs entire length of the truck box. One person can quickly open and close tonneau cover.
Average Customer Rating:
(9 reviews)
Review by: Bruce K.- WI
I am impressed with the sturdiness and ease of installation. Plus, the rack matches the contours of my truck precisely and looks like it was designed with my truck in mind. This would be a great rack for a contractor. I am sure there are a lot of businesses with fleet trucks that would greatly benefit from these racks. I will be using it to transport my canoe with me camping while I have my travel trailer hooked up. I didn't have a feasible way to take it camping with me before. This rack is more than I expected.
Review by: John M. - GA
I installed your bed cover and rack this past weekend. The cover went on easier than I thought and when I was confused I just checked the videos. This is my first cover and I really like it. I have to say without a doubt your rack is the best for no drill mounting on a F150.I have had a Yakima Outdoorsman, The Trac Rack, and Thule Xsporter. I disliked them all because of the pressure they exerted on the Ford ribbed bed rail cap. I thought eventually they would crack it. Your system is ideal as it disperses the weight across the whole bed rail while allowing multiple positions and easy removal if the need arises. The use of common SAE wrenches, nuts and bolts only makes your rack all the more awesome.
Review by: Emma L. - WA
Shopped around online for weeks to find a sturdy truck rack that would carry our 80lb canoe, we have a roll-up tonneau cover and did not want to have to remove it or drill into the sides of our truck. Also did not want to pay $700 for a "brand name" rack. Ordered the Adarac, it was delivered for free within a few days and was very simple to fit. Just YouTube for very easy to follow instructions! Very pleased and will use you again for future purchases. Thanks!
Review by: Michael L. - MI
I bought the Adarac truck rack to carry my kayaks. It works great for that, plenty of room for two kayaks, without any extra add-ons. I bought this rack because it mounts on the bed rails. I can use this rack without any interference with my tonneau cover. The rack is very sturdy and fairly easy to install. There is nothing fancy about the rack, but the price is very reasonable for the quality you get. I would highly recommend purchasing one if you have a tonneau cover that mounts inside your bed rails.
Review by: Shawn S. - ME
I purchased this rack to occasionally haul ladders or canoes. This is a very nice system that installs easily and allows for the use of the Access Cover as well. Very happy with the rack.
Review by: Vern N. -OH
With basic tools and a few hours time, I had my racks and cover installed. The product looks great. The tonenau cover is easy to use and more secure than I had imagined. Only reason 4 out of 5 stars, I wish the racks had upright posts to better secure my ladder.
Review by: Chad H. - CO
This Combo Cover is a fantastic and functional addition to our service trucks. Easy to install and perfect fit allowing a low profile assembly that allows us to drive into most parking structures with ladders attached.
Review by: Jim T. - MA
Searched for months to find a suitable combo of rack and tonneau for Chevy Colorado 2017 5' bed, and Agri-Cover products work perfectly! This combo suits our needs for an occasional use rack for recreation and small building projects, and the tonneau keeps the New England weather out of the bed. The Lorado roll-up cover fits well, and rolls tight leaving a clear view from the rear window, unlike a competitor's rack/tonneau combo that requires a folding tonneau that covers most of the rear window when open. Company tech support is superb. I used a Pro for installation, and we both contacted ACI to confirm the fitment for this combo and were given clear, helpful suggestions on the phone without a long wait. Our local Pro has worked with products from ACI and has nothing but good things to say about the company and products. Highly recommend the products and the ACI - top notch company in every respect!
Review by: Doug C.- MI
High quality product. This is my second cover and Adarac purchase. The first one gave me 6 years of enjoyment and trouble free. I sold the truck for a new one and had to get this combo again.