ROCKSTAR™ 2XL Hitch Mounted Mud Flaps
FOR A LIMITED TIME, GET 15% OFF + FREE SHIPPING ON ORDERS OVER $50!
ROCKSTAR™ 2XL Hitch Mounted Mud Flaps
The 2XL model is ideal for vehicles with off-set tires and customers who want better coverage.
Unique model specific design
ROCKSTAR™ 2XL Hitch Mounted Mud Flaps use a built-in stabilizer plate that keeps the frame level with your bumper. Vinyl capped stops allow for easy receiver pin alignment. The rust-proof aluminum frame has friendly radius corners and is available in two finishes, smooth mill or bright diamond plate. Stainless steel hardware is included.
Better rubber means better protection
The 1/2" thick rubber mud flaps reduce sailing and their smooth surface minimizes ice and mud build-up. The rubber is rated to resist heat damage at temperatures up to 250° F. Also, optional rubber lengths are available for custom sizing and the exhaust holes are designed to work with Dodge OEM dual exhaust.
Easy to assemble, remove, and re-install
The frame mounts to a vehicle's hitch with no drilling required and attaches with an adjustable clamping system. The convenient frame openings offer quick access to safety chains, pin and wiring. Simply pull the hitch pin to remove and store your mud flaps.
Important: ROCKSTAR™ Hitch Mounted Mud Flaps are designed to fit OEM receiver hitches and bumpers and may not fit aftermarket products. See Important Specifications
Average Customer Rating:
(3 reviews)
Review by: Ken P. - MN
These mud flaps are very easy to put together and set up. Rocks, dirt, and mud no longer hits my trailer. These things work great.
Review by: Dylan M. -MN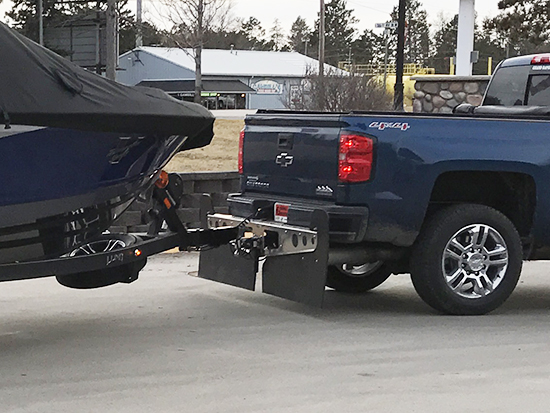 The Rockstar is the best system I have found yet for keeping rocks off of my Lund 202 Pro V. Installation is super easy and the product is well engineered. The best part is how they offer an exhaust guard so my diesel doesn't burn a hole in the rubber!