ROCKSTAR™ 2XL Hitch Mounted Mud Flaps
FOR A LIMITED TIME, GET 15% OFF + FREE SHIPPING ON ORDERS OVER $100!
ROCKSTAR™ 2XL Hitch Mounted Mud Flaps
Please allow up to 2 weeks to build and ship your order.
Precision crafted for style and protection, ROCKSTAR™ 2XL Hitch Mounted Mud Flaps are designed for even better coverage or pickups with offset tires. The rubber extends 4 in. beyond the frame. The large built-in stabilizer plate keeps the corrosion resistant aluminum frame level while the extra thick 1/2 in. rubber decreases sailing. Both model specific and universal ROCKSTAR™ 2XL Hitch Mounted Mud Flaps come in either smooth mill or diamond plate finish. Trim to fit rubber applications are designed for pickups with suspension modifications or large tires. Our ROCKSTAR™ 2XL Hitch Mounted Mud Flaps deliver the ultimate towing protection in style.
Important: Recommended towing mud flap ground clearance is 5 to 7 in., suggested clearance with a load is 3 in. minimum to prevent from dragging. Model specific mud flaps are designed to fit OEM receivers and bumpers, may not fit aftermarket products. See Important Specifications

California Residents: Prop 65 Warning
Average Customer Rating:
(3 reviews)
Review by: Ken P. - MN
These mud flaps are very easy to put together and set up. Rocks, dirt, and mud no longer hits my trailer. These things work great.
Review by: Dylan M. -MN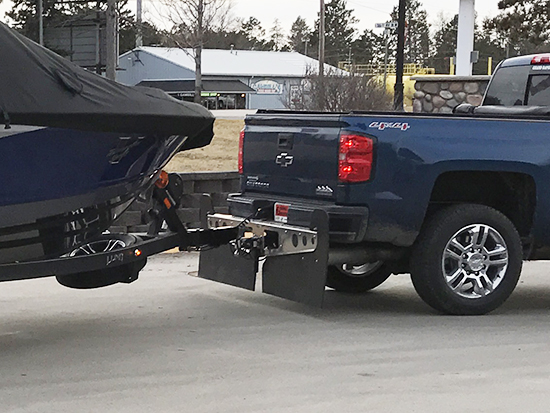 The Rockstar is the best system I have found yet for keeping rocks off of my Lund 202 Pro V. Installation is super easy and the product is well engineered. The best part is how they offer an exhaust guard so my diesel doesn't burn a hole in the rubber!