ROCKSTAR™ L Hitch Mounted Mud Flaps
ROCKSTAR™ L Hitch Mounted Mud Flaps
From:
$389.00
$330.65
- 15% Off
Make your own adventure, ROCKSTAR™ L Hitch Mounted Mud Flaps provide excellent tire coverage. The rubber extends 1 in. beyond the frame. The corrosion-proof aluminum frame with a built-in stabilizer plate stops rocking, and the 1/2 in. rubber lessens sailing. The model specific and universal ROCKSTAR™ L Hitch Mounted Mud Flaps come in both diamond plate and smooth mill. Trim to fit rubber applications are made for pickups with big tires and suspension modifications. ROCKSTAR™ L Hitch Mounted Mud Flaps don't stop when the pavement ends.
Important: Recommended towing mud flap ground clearance is 5 to 7 in., suggested clearance with a load is 3 in. minimum to prevent from dragging. Model specific mud flaps are designed to fit OEM receivers and bumpers, may not fit aftermarket products. See Important Specifications

California Residents: Prop 65 Warning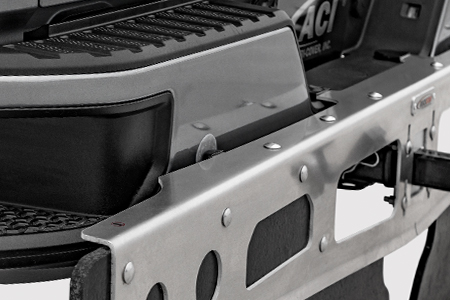 FRAME DESIGN
MODEL SPECIFIC Closely contours to the bumper and accounts for OEM dual exhaust flow with perforated rubber.
UNIVERSAL Fits vehicles with center bumper step and accommodates 09-18 RAM 1500 and 19-ON Classic OEM dual exhaust flow.
For Chevy/GMC 2500 and 3500 models, heat shield is standard for model specific and recommended for universal. Sold separately for pickups with custom exhaust.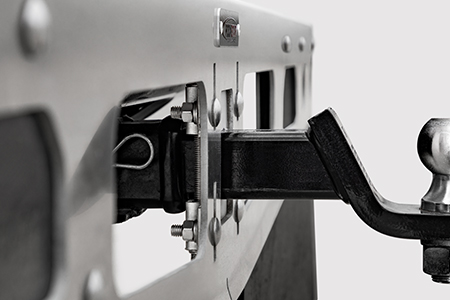 EASY TO ASSEMBLE
Corrosion resistant aluminum frame with stainless steel hardware installs to ball mount with an adjustable 2 in. clamp, no drilling required.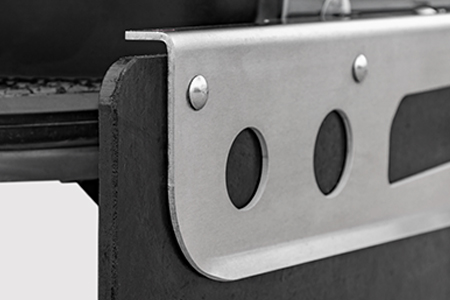 EXTRA THICK HALF INCH RUBBER
Reduces sailing and the smooth surface minimizes ice and mud build-up. Rated to resist heat up to 250° F. Trim to fit rubber available and provides 24 in. of trimmable height for pickups with suspension modifications or oversized tires.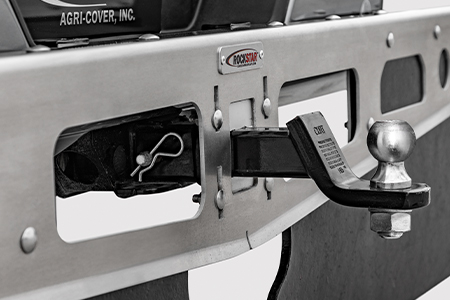 SIMPLE ON AND OFF
Vinyl capped stops allow for easy receiver pin alignment, simply pull pin to remove. Convenient frame openings offer visual access to receiver pin, safety chains and wiring.
Average Customer Rating:
(8 reviews)
Review by: Mark D.- IA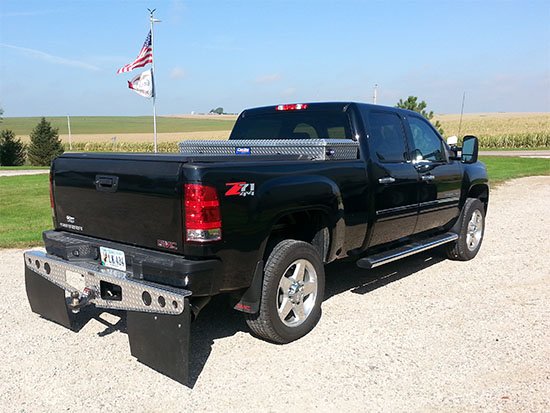 Very happy with the Rockstar Mud Flaps. Easy to install, look great, and it works with a 2 1/2 inch receiver. Thanks for a great product!
Review by: Kyle M.- SD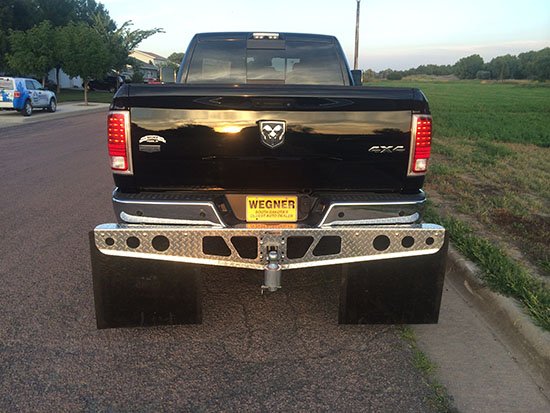 I absolutely love my ROCKSTAR hitch mounted mudflaps. They not only protect what I am pulling, they are an eye catching accessory that has gotten many nice comments. They are built to last! Nothing chincey about these at all. Well worth the $$$$$ spent! I was able to transfer from my 2013 1500 Laramie to my 2014 2500 Laramie. However I did need to order the replacement rubber flaps due to the 2500 does not have dual exhaust out the rear like the 1500 did. I called in to ask if it was possible, it was, I ordered them and all is well. Thank you for the great customer service as well.
Review by: Rob C.- IA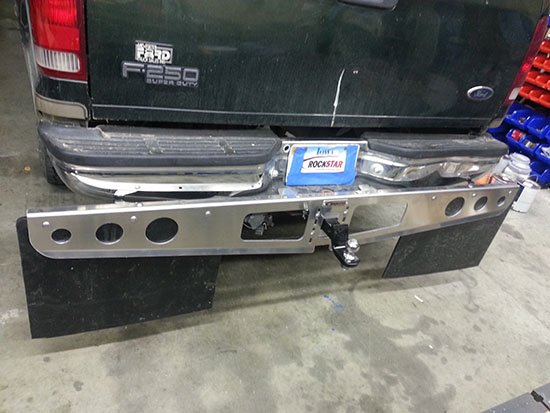 I tow my boat down a gravel road to get to where I need to launch. For years, I have been trying to find a solution, to keep it from being damaged, that wasnt a permanent mounted mudflap. These ROCKSTAR mud flaps appear to be the answer to my quest. Honestly, wish I had found them 15 years ago — would have saved a lot of damage to my trailers. My initial impression upon opening the box was WOW. The quality of materials truly impressed me before I even started. Living in the Midwest rust belt, I really appreciate the use of heavy aluminum for the frame, and how many companies go to the expense of using actual stainless steel hardware anymore? The instructions are easy to read and follow and actual assembly is simple and straightforward. The actual mudflaps are thicker than the ones on my semi. Everything about these says quality. The savings in reduced damage to trailers and boats makes them worth every cent.
Review by: Gary S.- Ontario
Great mud flaps and installation was easy. Wish this product was available in Canada, as I could easily sell them. Already people are asking me where I had purchased the Rockstar Mud Flaps. This after only two days on my truck.
Review by: Kelly H. - TX
I bought a set of mud flaps for my 2011 HD 2500 Chevy diesel. I got them with the heat shield. Very well built solid product. I would recommend this Mud flap system. They help prevent rocks from damaging my fifth wheel.
Review by: Jeremy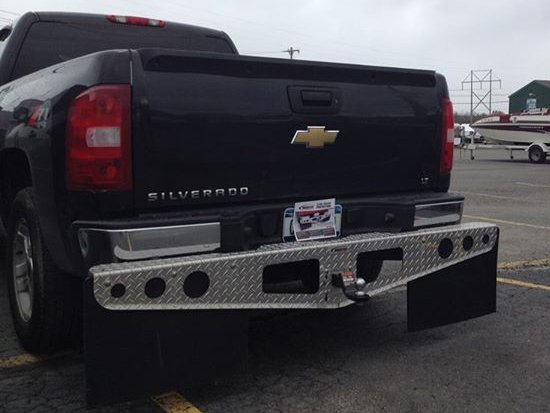 I was excited to put the Rockstar mud flaps on my truck so I wouldn't have to worry about rocks damaging the boats I deliver. I had one of those broom style towing protectors in the past. It didn't really do anything. I still had to worry what I would find when I got out of the truck. Now I know I won't find any damage and to my surprise it only takes me a few minutes to clean the boat for delivery instead of over an hour to get the road grim off. Thanks Rockstar!
Review by: Brock M.- ND
I got these mud flaps for my 2012 Duramax. They were easy to put on and take off. Just slide them on till they stop and the pin lines up. The mud flaps look great, seem very durable and protected my boat. I didn't have to alter my exhaust system because these mud flaps have a heat shield that deflects heat from the exhaust system even when towing large loads. The diamond plate looks good on my pickup truck.