ADARAC™ Truck Bed Rack & Roll-Up Cover Combo
ADARAC™ Truck Bed Rack & Roll-Up Cover Combo
From:
$1,306.00
$1,110.10
- 15% Off
Elevate your expectations with an ACCESS® Roll-Up Cover and ADARAC™ Truck Bed Rack System. Each tonneau cover is built with quality materials and precision crafted to fit perfectly on your pickup. Our ladder rack features durable, powder coated steel rails and uprights with extruded aluminum cross bars to safely carry kayaks and other gear. Installation is simple with no drilling for this truck bed rack system and tonneau cover combo. Make your truck more capable and versatile with an ACCESS® Roll-Up Cover and ADARAC™ Truck Bed Rack System.

California Residents: Prop 65 Warning
Features of the ADARAC™ Truck Bed Rack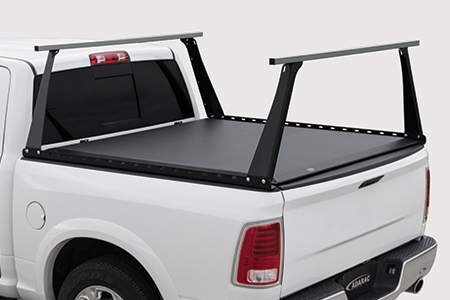 Strong Framework
Height above the box rail: 25 in. for full size and 27 in. for Super Duty trucks. Optional load dividers sit an additional 3 in. above cross bars.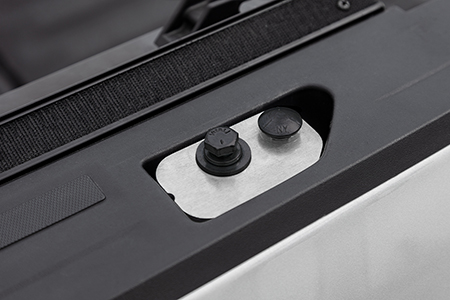 Simple Installation
Aluminum stake pocket inserts, no drilling needed.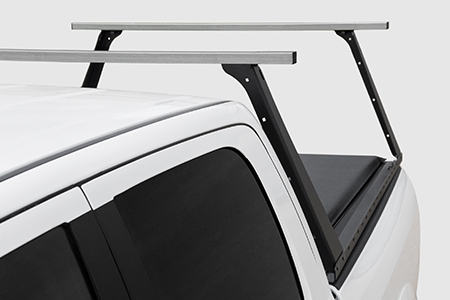 Contoured Uprights
Low profile, aerodynamic design with added tie down openings at the top. Simply remove or reposition.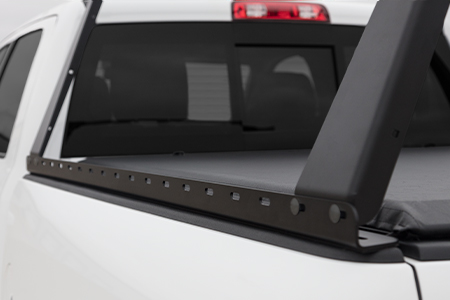 No-Hassle Tie Down Rails
Easily secure payload to numerous tie down locations, use with or without uprights.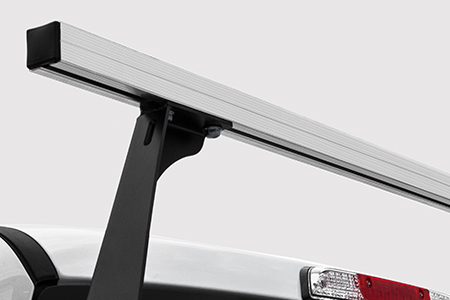 Aluminum Cross Bars
Conveniently attach accessories and secure gear utilizing integrated mounting channels.
Cross bars are 62 in. L x 1 1/2 in. W x 1 1/2 in. H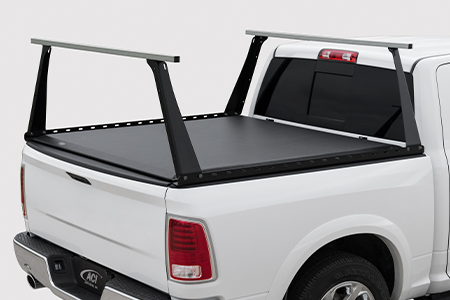 Cover Compatibility
Works with ACCESS® Roll-Up Covers and most inside the rail roll up tonneau covers.
Tonneau cover not included.
Features of the ACCESS® Roll-Up Cover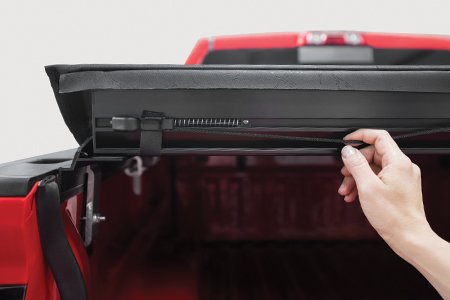 Dual Locking System
Patented AUTOLATCH™ II features an automatic dual locking system that releases both locks with one smooth downward pull. The heavy duty nylon latch provides a 1/2 inch of surface for a solid positive latch engagement of each end of the rear bar.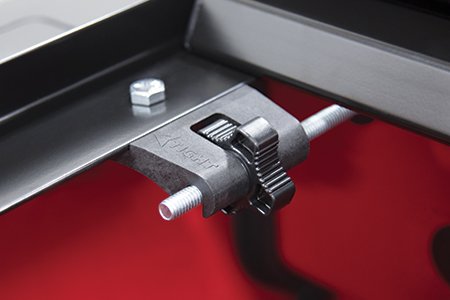 Tension Adjustment
The XT-DIAL™ Tension Adjuster features an easy grip tension adjuster which enable direct tension control with the turn of a dial. No tools - No hassle. Fine tune the tension of the tonneau cover.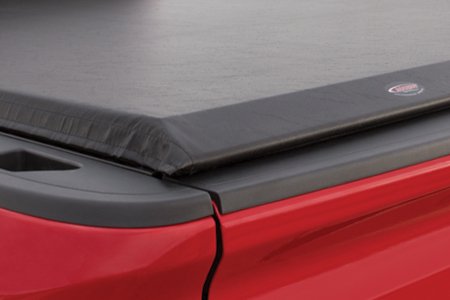 Seals on all 4 sides
Extra ELEMENT SEAL™ Gasket at front of truck bed provides additional protection. Integrated front and rear vinyl seal. Waterproof foam gasket between rails and truck bed.
Reliable Fastening System
Hook and loop fastening system provides a high strength seal that runs the full length of bed. Easy one person operation.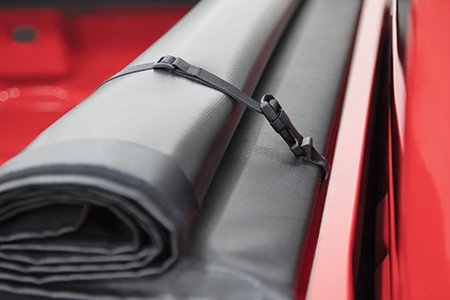 Premium Storage Straps
Our premium straps feature a cab guard design that prevents the tonneau cover from rubbing on the cab. Super tough nylon straps secure the rolled up cover.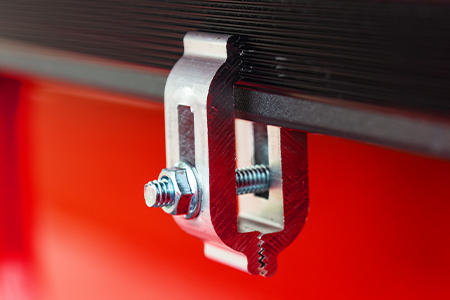 TIGHT BITE™ Clamps
Installs in minutes. Specifically cut "teeth" maintain a superior grip and exceptional strength.
Average Customer Rating:
(12 reviews)
Review by: Bruce K.- WI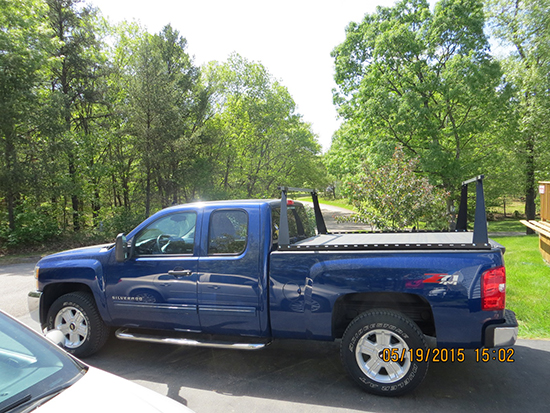 I am impressed with the sturdiness and ease of installation. Plus, the rack matches the contours of my truck precisely and looks like it was designed with my truck in mind. This would be a great rack for a contractor. I am sure there are a lot of businesses with fleet trucks that would greatly benefit from these racks. I will be using it to transport my canoe with me camping while I have my travel trailer hooked up. I didn't have a feasible way to take it camping with me before. This rack is more than I expected.
Review by: Jesse R. - IA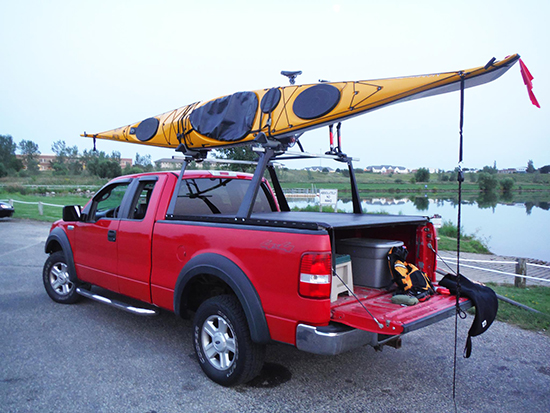 All welds are perfect/flawless. Powder coat application is beautiful. Fit is exact to my 2004 F-150 6.5' box. The instructions were clear, and all hardware was supplied (and is high quality, you can really torque the bolts down). The end result looks fantastic and is rock solid!
Review by: Sean T. - NY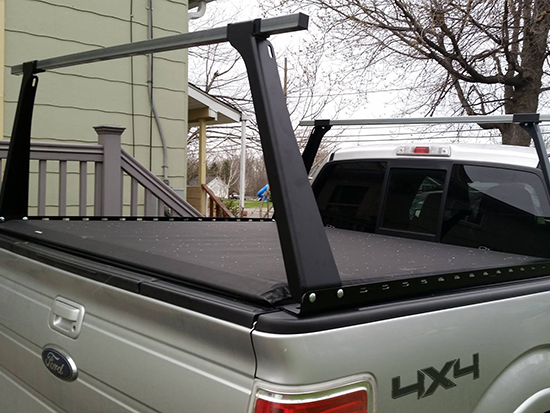 I added an Adarac Truck Bed Rack to my Ford Trucks F150, which already had an Access Roll-Up Cover installed. This rack works great with my truck bed cover. Went together easy.
Review by: John M. - GA
I installed your bed cover and rack this past weekend. The cover went on easier than I thought and when I was confused I just checked the videos. This is my first cover and I really like it. I have to say without a doubt your rack is the best for no drill mounting on a F150.I have had a Yakima Outdoorsman, The Trac Rack, and Thule Xsporter. I disliked them all because of the pressure they exerted on the Ford ribbed bed rail cap. I thought eventually they would crack it. Your system is ideal as it disperses the weight across the whole bed rail while allowing multiple positions and easy removal if the need arises. The use of common SAE wrenches, nuts and bolts only makes your rack all the more awesome.
Review by: Alan H. - MA
I had been looking for a truck rack that would work with the tonneau cover that had already been installed. Most compete for the same side rail "real estate" so would not work. I was looking for a stake pocket secured system. Since I do not always carry long loads I also wanted something where the rear rack could easily be removed. The Adarac Rack is a great solution with an ingenious way of bolting the side rail into place. Perfect for my needs and my truck is black.
Review by: Nicholas M. - WA
I bought this rack for my RAM 1500 because the rack allowed me to use my tonneau cover while hauling kayaks and paddle boards. Construction is solid and there's plenty of space/strength to haul multiple items. While the rack itself can be easily removed with a wrench when not in use, the rails along the bed cannot because of the way they are attached to the truck bed. I wasn't too thrilled with the look of the rails at first and thought they could have "fit" the curve of the truck bed a bit better, but have become accustomed to them and they're ok now. I wouldn't hesitate to buy this rack again were I to be in the market.
Review by: Gerald B. - NY
The Truck Rack and the Access Roll up cover work great together. The truck rack can be adjusted for short kayaks or for a 12' boat via 8 bolts but this combination only cost 1/4 the cost of other mfg. adjustable truck rack and roll up covers that work together.
Review by: Charlie V. - WI
First off, I've never seen a product packaged so well. This company is great to work with. Easy and fun installation. A friend and I did it in 15-20min with no hassle. The rack is rock solid and easy to adjust for various lengths. I installed a Yakima bike and ski rack on top, fits perfect. I also use it to haul my 13ft laser sailboat around, works great! You won't be disappointed with this purchase. The sole reason for this purchase was to find a rack that is usable with my Access tonneau cover (best cover I've had!). They work hand in hand, I can keep my muddy bike on top and keep my bed dry for clothes, etc. I put it on a 2009 Silverado crew that has rhino liner.
Review by: Margaret H. - MN
The Quality was awesome! Solid construction was amazing. Very well built, we were impressed with how heavy duty it is built, it probably will outlast our truck. It was amazing how fast and simple it was to install on the truck. Instructions were easy to follow and we were done installing in less than an hour. The versatility of the side holes are great for tying down all the things that we haul on the racks. Will recommend this product to family and friends.
Review by: Vern N. -OH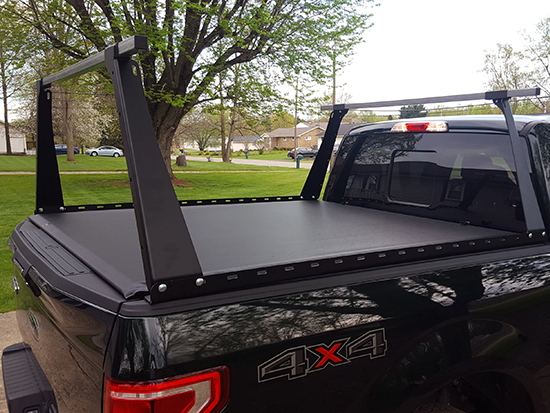 With basic tools and a few hours time, I had my racks and cover installed. The product looks great. The tonenau cover is easy to use and more secure than I had imagined. Only reason 4 out of 5 stars, I wish the racks had upright posts to better secure my ladder.
Review by: RK S. - CA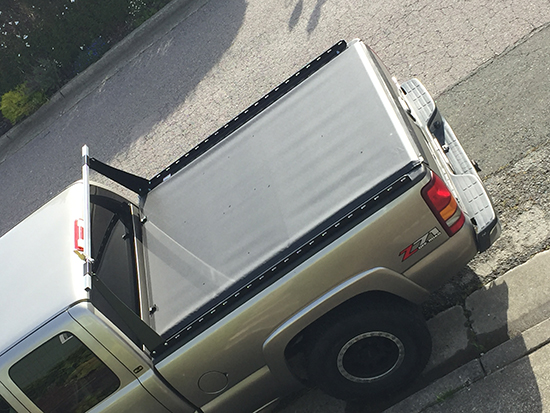 Excellent cover. Some difficulties with installation instruction photos. Otherwise fairly simple installation. Also purchased Adarac.