ROCKSTAR™ Splash Guard Mud Flaps - Universal Fitted
FOR A LIMITED TIME, GET 15% OFF + FREE SHIPPING ON ORDERS OVER $50!
Fit Pickups and SUVs (except dually)
Undeniable protection you can count on, the fitted universal ROCKSTAR™ Splash Guard Mud Flaps come equipped for unexpected surprises with practical versatility and powerful, yet efficient performance. Constructed with heavy duty composite rubber and aluminum stabilizing brackets for an ideal fit, ROCKSTAR™ Fitted Universal Splash Guard Mud Flaps quickly and easily install level and flush on your pickup, Jeep or SUV. Select either 23 or 20 in. length for your desired coverage with optional mirrored finished trim plates. Reliable and attractive, make ROCKSTAR™ Fitted Universal Splash Guard Mud Flaps part of your travel plans.
Average Customer Rating:
(1 customer review)
Review by: Megan F. - ND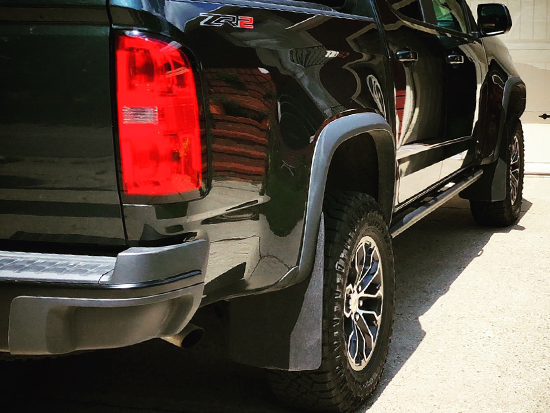 Thankful for the crew at ACI for creating mud flap that actually fit those beasts of fenders! They look great, they don't make the truck look any less mean than it did before and, most importantly, I don't have filthy hands anymore when I open the door because they prevent mud, salt and sand from flying up under the door handle. Mean and clean. Thanks for that, it's much appreciated!