ROLTEC® Electric Tarp Conversion Kit w/Front Spring Arm & Rear Cable Return
ROLTEC® Electric Tarp Conversion Kit w/Front Spring Arm & Rear Cable Return
The ROLTEC® Electric Tarp Conversion Kit with a Front Spring Arm and Rear Cable Return for use on trailer with rear discharge augers makes opening and closing your tarp easy. The HD Universal Mounting System is adjustable fitting most makes and models of trailers. The Spring Tension Adjustment consists of 4 springs that create positive return tension, throughout the entire return cycle including locking. This electric motor kit converts your 2" roll tubes to an electric tarping system on trailers up to 53 feet.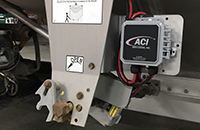 AGRI-COVER™ Switch Control (optional)
The AGRI-COVER™ Switch Control is a weather resistant and durable electric system controlling your tarp.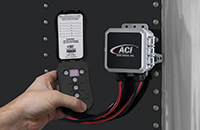 AGRI-COVER™ Switch and Remote Control (optional)
The AGRI-COVER™ Switch and Remote Control is smart and easy to use. Remote controls 99 devices from more than 100 ft. away or from the comfort of your cab.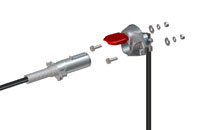 Dual Pole Connector
The Dual Pole Connector comes standard with our Grain Trailer and Grain Cart kits allowing for a quick and simple electrical connection from the tractor to the trailer.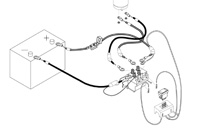 Rocker Switch and Solenoid
Our rocker switch allows the operator to open or close the tarp from the comfort of the cab. All electrical components needed for installation are included.
Average Customer Rating:
(3 customer reviews)
Review by: Tim W. - MN
I have owned my Roltec electric conversion kit for about a year now and it works very well. I have been very happy with the operation and function of the kit. I would definitely recommend putting on a Roltec electric conversion.
Review by: Dennis P. - ND
The electric tarps have been really nice to have on my semi trailers. They are easy to install and simple to operate. If something doesn't work just right or we have a question we call into Agri-Cover and they get us the part or answer we need. It sure is nice not to have to crank that tarp open and closed anymore.
Review by: Eldon R. - ND
I own 3 Roltec electric conversion kits and I wouldn't have another trailer without one. We have had good luck with ours and they work great. I installed mine with another guys help and the install was not very difficult, just followed the directions and it took about 4-5 hours. Great Product!