ACCESS® LORADO® Roll-Up Cover & ADARAC™ Truck Bed Rack System Combo
ACCESS® LORADO® Roll-Up Cover & ADARAC™ Truck Bed Rack System Combo
This ACCESS® LORADO® Roll-Up Cover and rack system gives you a sleek, low-profile truck bed cover and rack for long pieces of cargo.
Truck Rack and Bed Cover: Working Together
Give your truck an ACCESS® LORADO® Roll-Up Cover and an ADARAC™ Truck Bed Rack and you'll get the benefits of a secure truck bed cover and a durable pickup rack at the same time. Adding this truck bed cover and rack combo can double the cargo space of your truck.
The ACCESS® LORADO® Roll-Up Cover mounts to the inside of a truck's bed, and the ADARAC™ Truck Bed Rack attaches to the top of the bed. There is no need to remove one or the other. Just roll up the truck bed cover whenever you need access to the bed, and the ladder rack is always ready for cargo.
ACCESS® Roll-Up Covers and ADARAC™ Truck Bed Racks are built model-specific for a tight fit to a truck bed. This is not a one-size-fits-all operation; these truck accessories are made to get a proper fit on most Ford, Chevrolet, GMC and Dodge Ram trucks.
About the ACCESS® LORADO® Roll-Up Cover
This truck bed cover and rack system gives you a tonneau cover designed for all four seasons. It is made with double-coated vinyl that stays soft in a wide range of temperatures, whether it's in the hot summer sun or freezing winter nights — as cold as -40F. The truck bed cover is sealed on all four sides to keep the weather out, and comes with an ELEMENT SEAL™ Gasket to add extra protection to the front of the bed.
The ACCESS® LORADO® Roll-Up Cover is a low-profile truck bed cover sitting 1" above the bed. When you need to haul something tall, roll it up and store it behind the cab to have full use of the bed. Once the cargo is delivered, you only need a moment to roll it down flat and cover the truck bed.
About the ADARAC™ Truck Bed Rack System
If your cargo is too long for the truck bed, strap it to the pickup rack. This package gives you a truck bed rack that can fit many roles: ladder rack, canoe/kayak rack, lumber rack, etc. If it weighs less than 500 pounds, this truck rack can carry it.
The ADARAC™ Truck Bed Rack has steel rails, bars and hardware. The rails have multiple mounting points along their lengths to let the uprights be mounted in many configurations. They can also be mounted at the front or removed entirely in a moment should you ever need to load something especially big. Those mounting points also give you more options for strapping down cargo to keep it stable.
Features of the ADARAC™ Truck Bed Rack System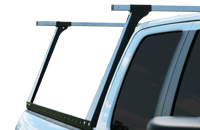 The Right Height
Rises approximately 27" above the box rail in most applications, 30" above the box rail for Ford Super Duty. The optional load dividers sits an additional 4" above cross bar.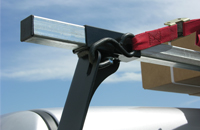 Durability
Uprights feature a black powder coat finish, with tie-down openings. Durable 1¼" Gatorshield® steel cross bar won't chip, and looks great after years of use. Cross bar works with universal accessories. Gatorshield® is a registered Trademark of Ohio Galvanized Tube (Ashland, OH). Agri-Cover Inc. (ACI) is not related to or affiliated with Ohio Galvanized Tube and is not offering to sell Ohio Galvanized Tube products.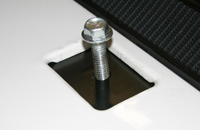 Easy installation
The rack attaches to truck bed with sturdy, stake pocket inserts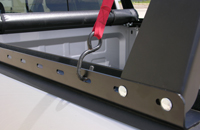 Tie Down Rails
Allows for quick and easy tie down of all objects. The full length tie down rail allows for multiple tie down locations.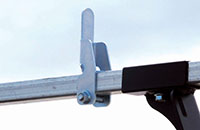 Optional Load Divider Kit
Makes it easier to keep loads in place. Sold in pairs for use on the front or rear cross bars. Adjustable spacing for different size loads.
Features of the ACCESS® LORADO® Roll-Up Cover
Premium Storage Straps
Our premium straps feature a cab guard design that prevents the cover from rubbing on the cab. Super tough nylon straps secure the rolled up tonneau cover.
Tension Adjustment
The XT-DIAL™ Tension Adjuster features an easy grip tension adjuster which gives you perfect tension control of your tonneau cover. No tools - No hassle.
TIGHT BITE™ Clamps
8 sturdy aircraft grade aluminum clamps secure your rails to the side of your truck (most short boxes receive 6 clamps). Specifically cut "teeth" maintain a superior grip giving these clamps exceptional strength.
AUTOLATCH II™ Dual Locking System
Patented AUTOLATCH II™ Locking System has an automatic, dual locking system that releases both locks in one smooth action. It is the most reliable latching system on the road.
Vinyl Fabric
The ACCESS® LORADO® Roll-Up Cover fabric is double-coated, commercial grade, reinforced vinyl and is built to last even in extreme hot and cold climates.
Side Sealing
Hook and loop fastening system provides a high strength seal that runs the full length of the truck bed. Easy one person operation.
Low Profile Rails
The ACCESS® LORADO® Roll-Up Cover rises 1", providing a streamlined look. There is no need for moving parts, our built in lip keeps the hook and loop fastening system from prematurely adhering.
Average Customer Rating:





(10 customer reviews)
Review by: Bruce K.- WI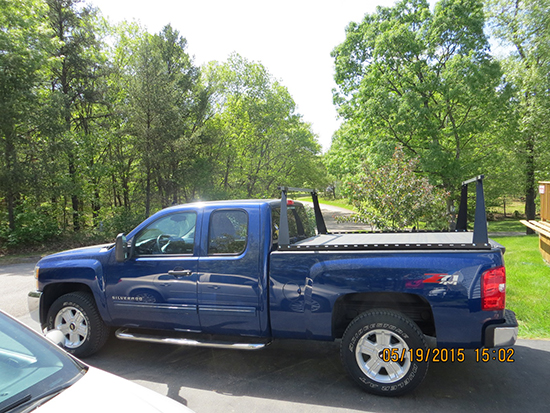 I am impressed with the sturdiness and ease of installation. Plus, the rack matches the contours of my truck precisely and looks like it was designed with my truck in mind. This would be a great rack for a contractor. I am sure there are a lot of businesses with fleet trucks that would greatly benefit from these racks. I will be using it to transport my canoe with me camping while I have my travel trailer hooked up. I didn't have a feasible way to take it camping with me before. This rack is more than I expected.
Review by: Jesse R. - IA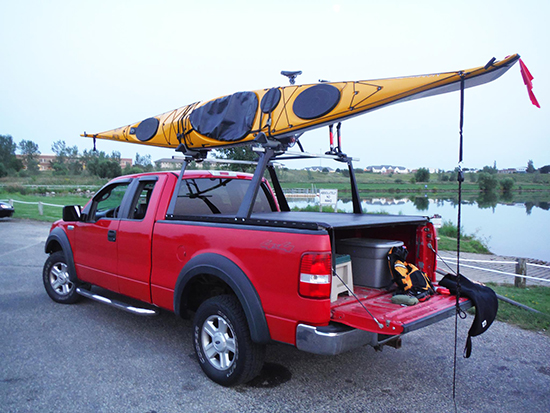 All welds are perfect/flawless. Powder coat application is beautiful. Fit is exact to my 2004 F-150 6.5' box. The instructions were clear, and all hardware was supplied (and is high quality, you can really torque the bolts down). The end result looks fantastic and is rock solid!
Review by: Sean T. - NY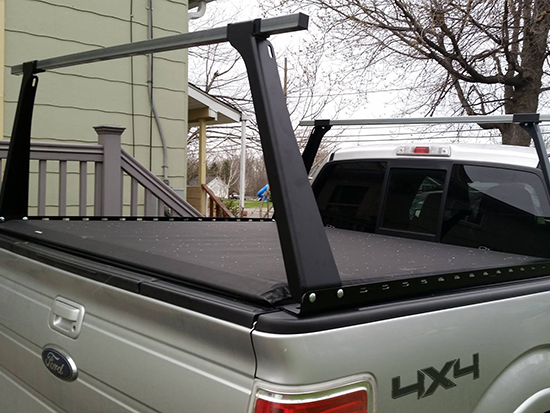 I added an Adarac Truck Bed Rack to my Ford Trucks F150, which already had an Access Roll-Up Cover installed. This rack works great with my truck bed cover. Went together easy.
Review by: John M. - GA
I installed your bed cover and rack this past weekend. The cover went on easier than I thought and when I was confused I just checked the videos. This is my first cover and I really like it. I have to say without a doubt your rack is the best for no drill mounting on a F150.I have had a Yakima Outdoorsman, The Trac Rack, and Thule Xsporter. I disliked them all because of the pressure they exerted on the Ford ribbed bed rail cap. I thought eventually they would crack it. Your system is ideal as it disperses the weight across the whole bed rail while allowing multiple positions and easy removal if the need arises. The use of common SAE wrenches, nuts and bolts only makes your rack all the more awesome.
Review by: Timothy M. – NJ
I needed a multi-purpose truck rack that was sturdy and fit around my tonneau cover and didn't require drilling into my truck body. This rack is adjustable, easy to install (took me 20 minutes) and a great buy for contractors and weekenders as well. Totally satisfied.
Review by: Michael L. – MI
I bought the Adarac truck rack to carry my kayaks. It works great for that, plenty of room for two kayaks, without any extra add-ons. I bought this rack because it mounts on the bed rails. I can use this rack without any interference with my tonneau cover. The rack is very sturdy and fairly easy to install. There is nothing fancy about the rack, but the price is very reasonable for the quality you get. I would highly recommend purchasing one if you have a tonneau cover that mounts inside your bed rails.
Review by: Wesley F. – WA
These light weight "ladder" racks are easy to install with good directions. The feel rock solid and have some lee way in how far back and forward they can be installed. The install with the Stake pockets and compatible with tonneau covers that don't cover the side rails. They were also compatible with the rail caps that I had installed on my Silverado. They didn't interfere with my tonneau cover in any way.
Review by: Nicholas M. – WA
I bought this rack for my RAM 1500 because the rack allowed me to use my tonneau cover while hauling kayaks and paddle boards. Construction is solid and there's plenty of space/strength to haul multiple items. While the rack itself can be easily removed with a wrench when not in use, the rails along the bed cannot because of the way they are attached to the truck bed. I wasn't too thrilled with the look of the rails at first and thought they could have "fit" the curve of the truck bed a bit better, but have become accustomed to them and they're ok now. I wouldn't hesitate to buy this rack again were I to be in the market.
Review by: Vern N. -OH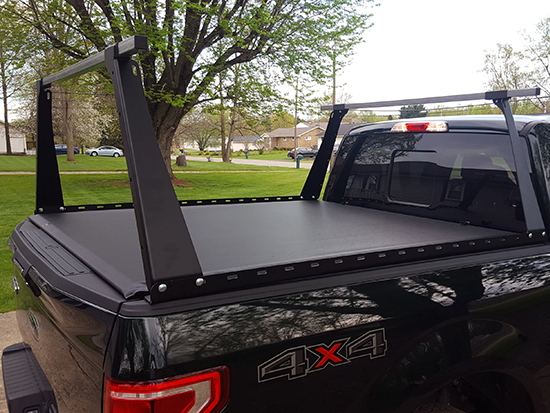 With basic tools and a few hours time, I had my racks and cover installed. The product looks great. The tonenau cover is easy to use and more secure than I had imagined. Only reason 4 out of 5 stars, I wish the racks had upright posts to better secure my ladder.